Sziasztok!
A hetet néhány tengerparti fotóval nyitjuk Görögországból. Ezeket a képeket Mesi készítette rólam, amikor egy nagyot sétáltunk Stavrosban a part mentén még az első napokban. Hihetetlen jó érzés volt ott állni, nézni a végtelen tengert, és élvezni a napsütést. Sajnálom, hogy ilyen messze lakunk, mert legszívesebben minden hétvégét itt töltenék, de ezzel biztos nem vagyok egyedül! :)
A parton a kedvenc magasított derekú rövidnadrágomat viseltem, egy drapp színű toppal, alatta pedig a kedvenc rojtos fürdőruhámat! ;) Olyan nagy rajongója lettem ennek a bikininek, hogy rendeltem egy sárga színűt is, ami sajnos a nyaralásra nem érkezett meg, de sebaj, lesz még nyár, és nyaralás is. ;) Ha Ti is szeretnétek hasonlót, nagyon sok színben találtok az Ebayen. Az ára kedvező, és az egyetlen "hibája", hogy mosásnál összegubancolódhatnak a rojtok, de nagyon mókás dolog kifésülni! :D
Legyen szép napotok, és tessék sokat mosolyogni! :)
Puszó: Panni
...
Hi!
Let's start this week with some beach photos from Greece. These pictures are made by Mesi, she shot them when we were walking on the beach in Stavros. It was amazing to stand there, watch the endless sea and feel the sunshine. Unfortunately we live too far away, I would go there every weekend, and I'm sure I'm not the only one. :)
I was wearing my favorite high waisted shorts on the beach with a beige top, and my favorite fringle bikini. ;) I'm such a big fan of this bikini now that I've ordered another one in yellow, which hasn't arrived in time, but no worries, there will be summer and there will be more holidays! ;) If you would like to have similar, there are lots of colors on Ebay. It's price is good, and it has only one mistake, that the fringles may tangle when washing, but it's fun to comb it.
Have a nice day, smile a lot!
Kisses: Panni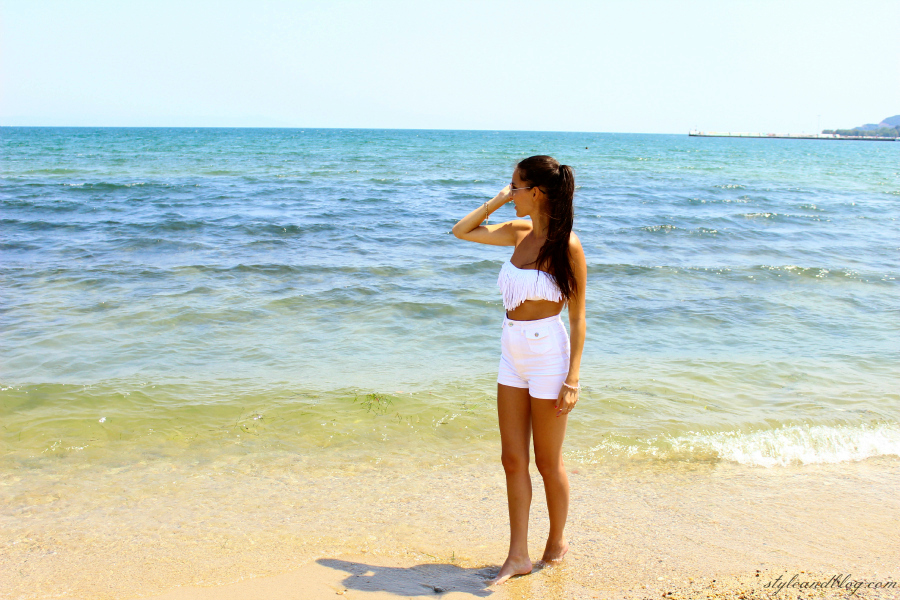 Heart It