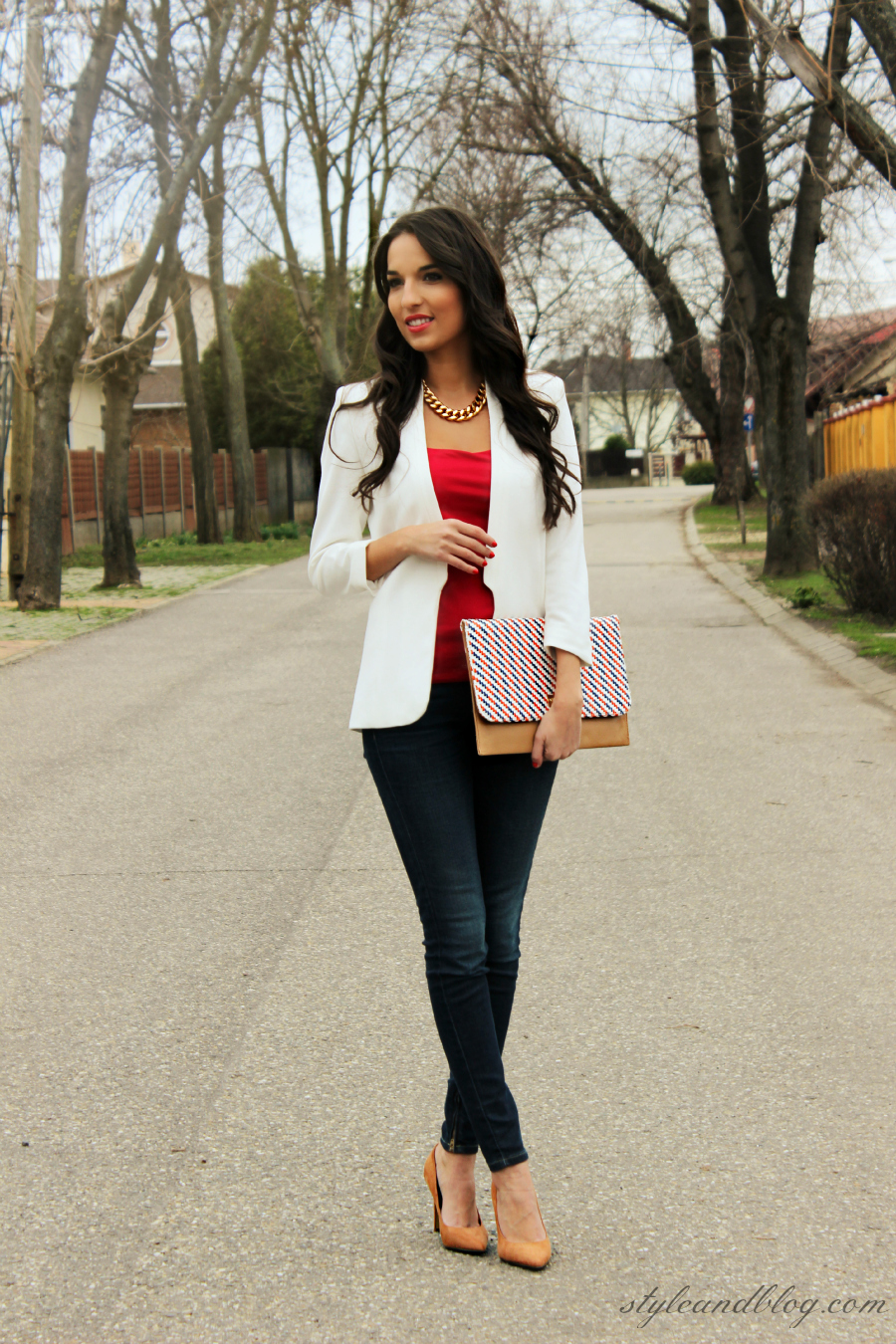 Még múlt héten meleg napsütésben készítettük ezeket a képeket. (bezzeg most vacognék egy hasonló szerkóban :)) Sok időm nem volt elkészülni, de amikor megláttam ezt a táskámat, jött is az ötlet, hogy most ez lesz az "alap". A táska színeihez választottam a ruhákat, és íme a végeredmény. Nekem nagyon tetszik ez a barna-fehér-piros-kék kombináció arany kiegészítővel, szerintem elegáns, és vidám egyszerre. Ha Nektek is tetszik nézzetek körül otthon hátha akad Nektek is ezekből a színekből, és próbáljátok ki őket így együtt. Akár cserélgethetitek is a színeket, ne ragaszkodjatok pont ehhez a variációhoz, hiszen lehet Nektek fehér helyett egy kék, vagy akár egy piros zakó lapul a szekrényben. :)
Ha találtok egy különleges szettet egy magazinban, ami nagyon tetszik, próbáljátok meg a saját ruháitokból megvalósítani, persze gyakran ez úgy sikerül, hogy a végeredmény nem is igazán hasonlít az inspiráló fotóra, de a lényeg, hogy beindítja a fantáziátokat, és létrejön valami új a régiből, ami csak rátok jellemző, megfűszerezve a saját stílusotokkal. :) Nagyon ritka, hogy rendelkezünk ugyanazokkal a termékekkel, mint amit a magazinban, vagy egy blogon látunk, de nincs is rá szükség. Csak egy ötlet, egy különleges megoldás, vagy egy színkombináció az, ami majd beépül az öltözködésünkbe. Ez a kombinálás, és játék a ruhákkal számomra nagyon élvezetes, és kreatív, és remélem Nektek is lesz kedvetek egy kis kísérletezésre, ha legközelebb találtok nálunk valami inspirálót! ;)
Nagyon sok levelet kapunk Tőletek, aminek nagyon örülünk, és igyekszünk minél hamarabb válaszolni mindenkinek! Köszönjük a kedves szavakat, és a sok biztatást, nagyon sok erőt adtok nekünk! <3
Puszilunk Titeket! Legyen csodaszép vasárnap estétek!
...
Hi everyone!
We took these photos last week, when the sun was shining warm. (I would be freezing now in a similar outfit) :) I did not have much time to get ready, but when I saw my bag, I knew, that this time that will be the base. I chose clothes that match the colors of the clutch, and this is the result. I really like this brown-white-red-blue combination with gold accessories, I think it's elegant, and cheerful. If you like it you should take a look around at home, you might have something with these colors too, and try them together. You can change colors, you don't have to try this exact outfit, because you might have blue blazers or red in your wardrobe. :)
If you find sets in magazines or blogs that you like, try to make them with your own clothes. Sometimes the result doesn't even match the one you started to create, but the point is that your imagination is working and something new comes from the old clothes, that is yours, with your style. :) We don't usually have the same pieces we see in magazines, but we don't have to. What we need is an idea, a special solution, or a combination of colors. This game with your clothes is very funny, I like it very much, I feel creative, and I hope you also will have some fun and start to try new things when you see something new on our blog, something that inspires you. :)
We have received lots of letters from you in the last days, thank you, you are amazing! We are very thankful and we will answer you as soon as possible! Thank you for all the kind words, all the encouragement, and the power you give us!
Kisses to you! Have a wonderful Sunday evening!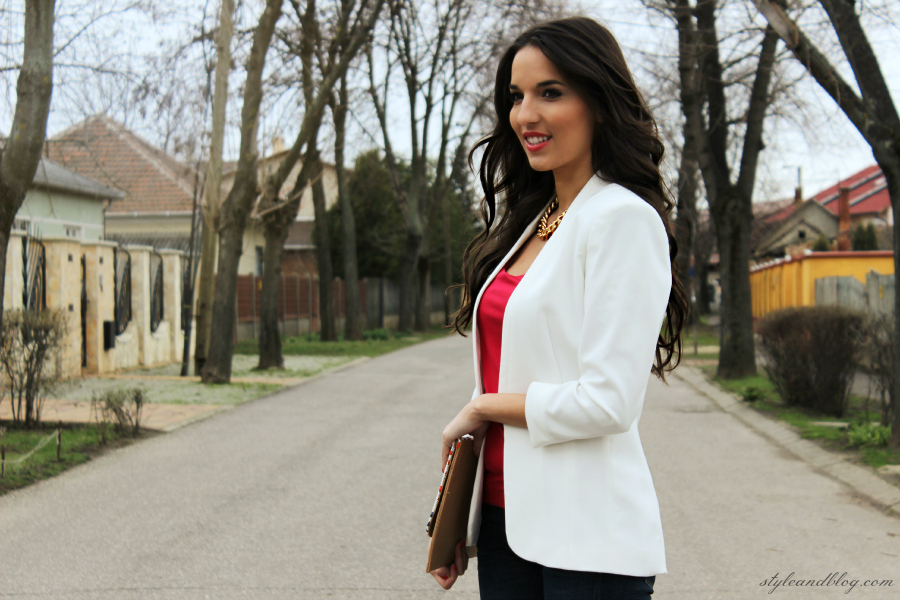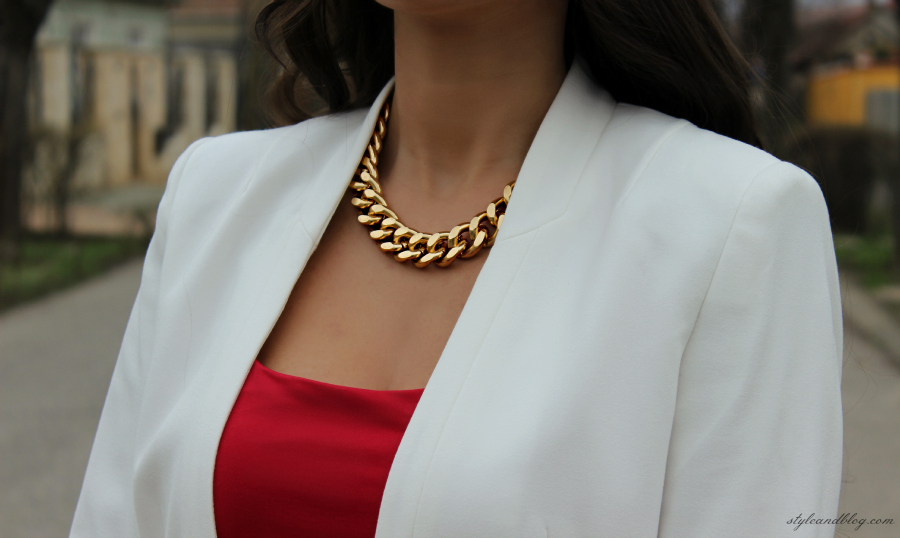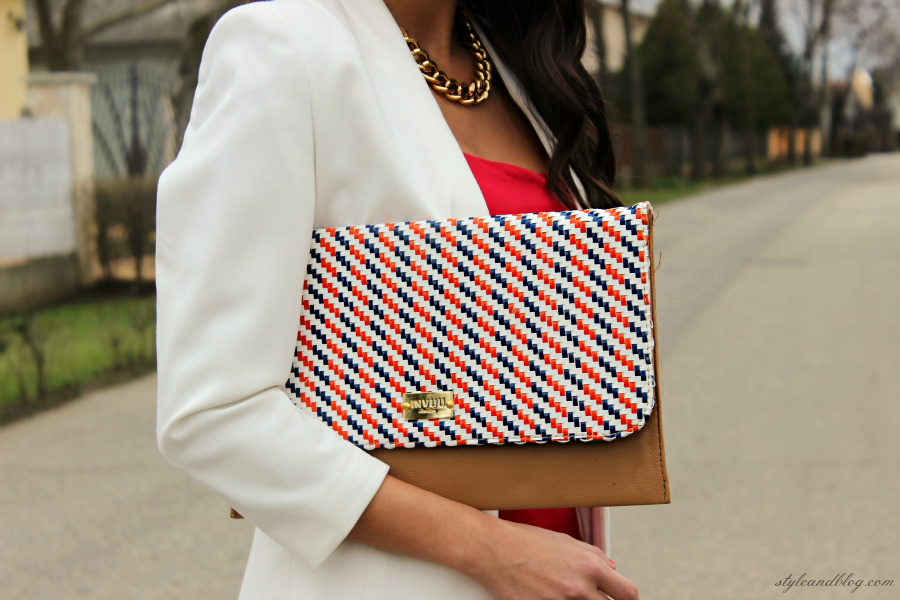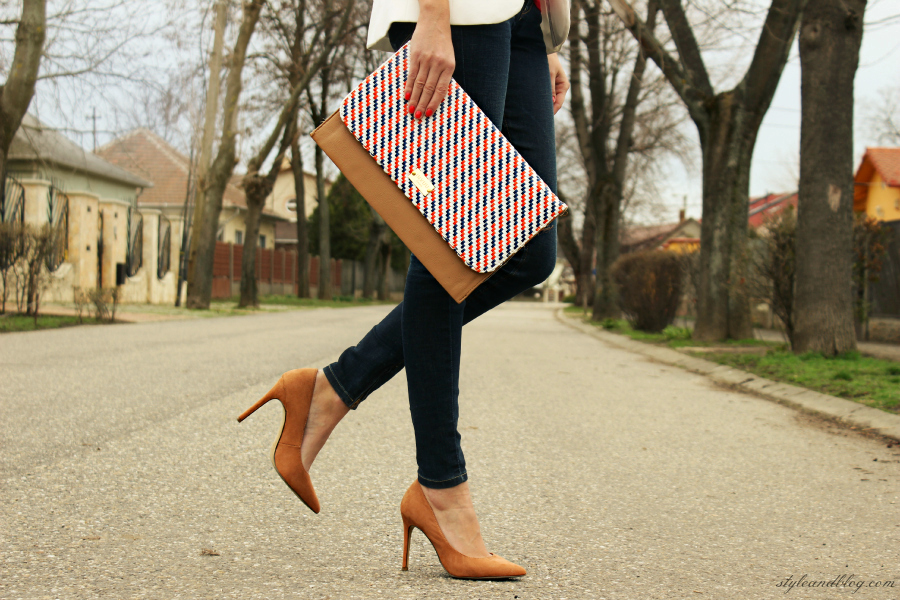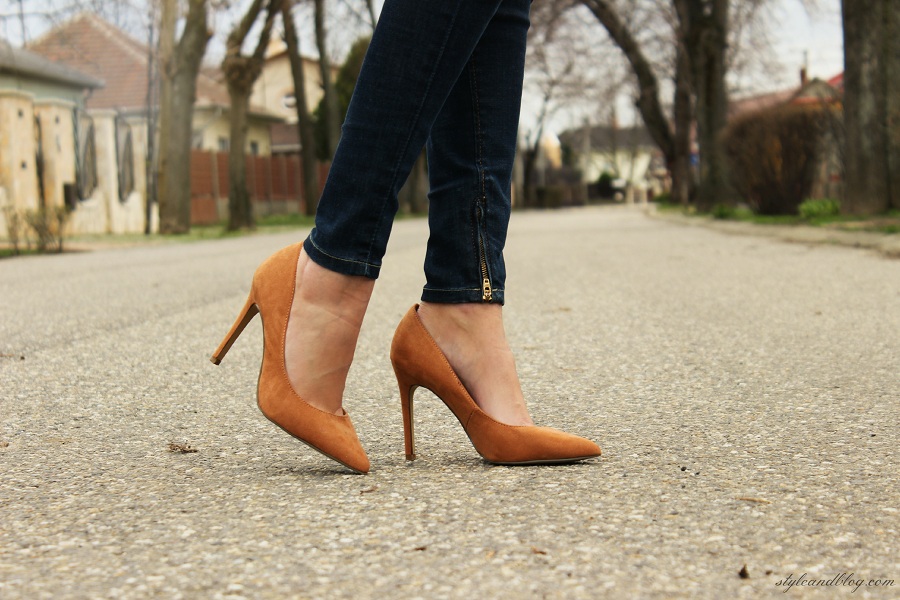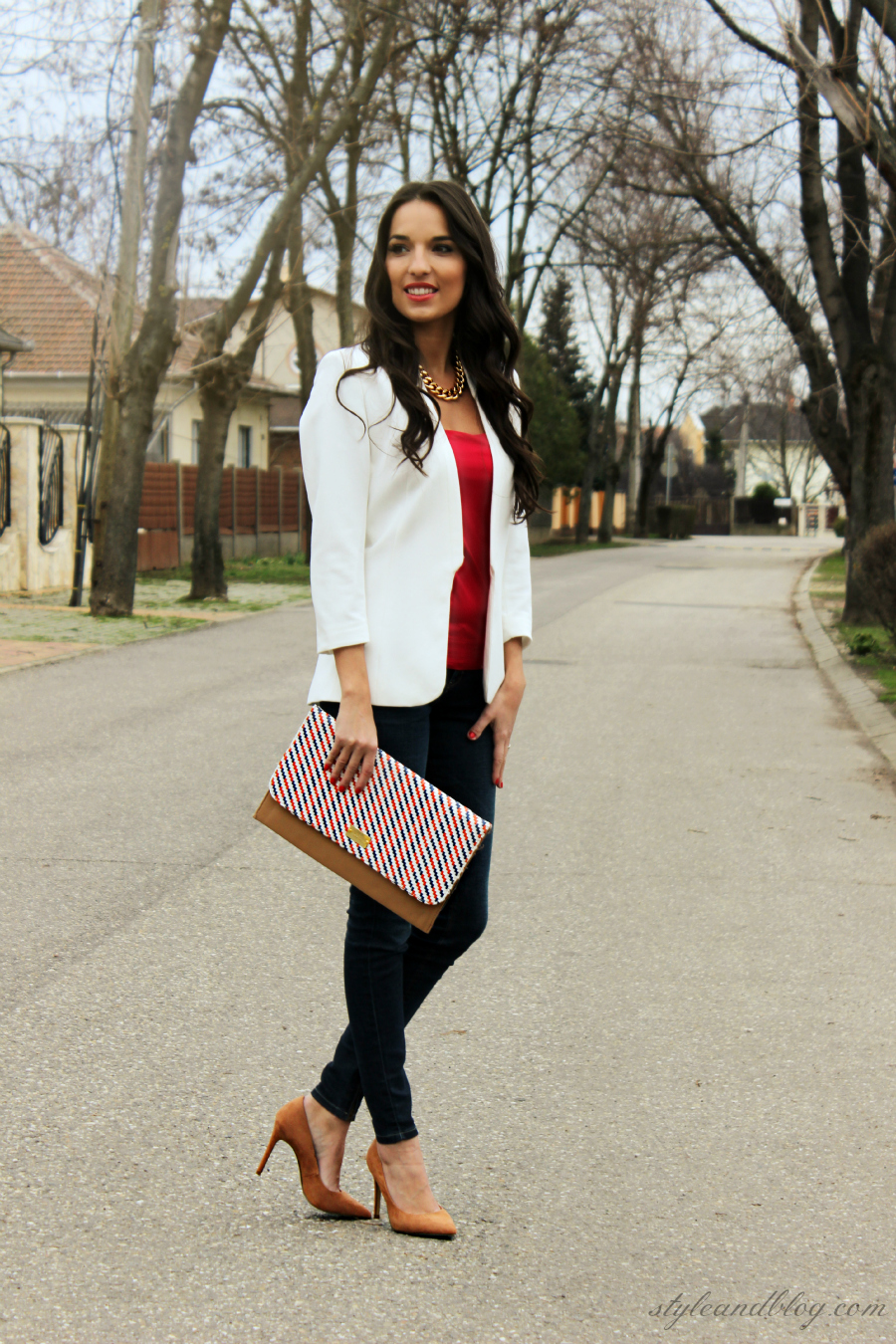 BLÉZER / BLAZER - H&M
TOP - ZARA
FARMER / JEANS - LEVI'S
CIPŐ / SHOES - BERSHKA
TÁSKA / BAG - INVUU
NYAKLÁNC / NECKLACE - H&M