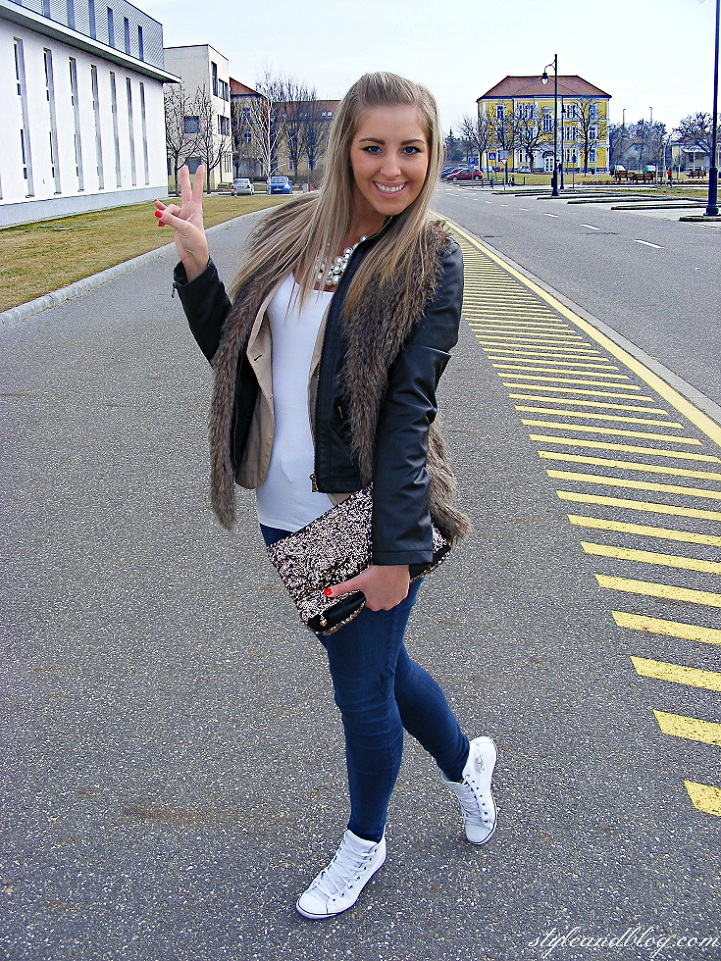 Sziasztok!
Ahhh, nem tudok nem örömködni: most keltem fel és olyan szép idő van kint, hogy egész nap sétálni akarok! Egy nagyon mozgalmas hét van mögöttünk, úgyhogy a legjobbkor jött a hétvége, garantáltan csak pihenni, filmezni fogok, meg persze élvezni ezt a gyönyörű napsütést, amíg lehet.
Tegnap egy picit megcsúsztam a bejegyzés élesítésével, úgyhogy ma mutatnám meg Nektek, mit viseltem péntek délelőtt a suliban. Ismét egy nagyon egyszerű szett következik, újra basic darabokból. Egy szőrme mellény, műbőr kabát, blézer, skinny farmer és fehér top szinte minden lány ruhatárában megtalálható mostanság. Imádom a layeringet, azaz a réteges öltözködést, ezért téli kabát helyett inkább a tavaszi kabát – szőrme kettősét választottam, mindenkinek ajánlom, nagyon jó meleg így együtt! Mivel már nagyon unom a csizmákat, de nem volt kedvem egész nap magassarkúban egyensúlyozni, egy kényelmes tornacipőt választottam a szetthez. Persze mindig kell valami extravagáns is az összeállításba, ezúttal ezt a hatalmas gyöngyökből álló Zara nyakláncot választottam statement darabnak. A Chanel 2013-as tavaszi / nyári kollekciót nézegetve döntöttem el, hogy szükségem van egy óriási gyöngyökből álló kiegészítőre, úgyhogy ez a Zara nyaklánc szerelem volt első látásra. Nektek tetszik egyébként?
Az outfit slusszpoénja, hogy tegnap felhívtam Pannit (mi újság, mikor érnek rá találkozni, ilyesmi), aki elújságolta, hogy csináltak outfit-fotókat. Kiderül, hogy Ő is egy tornacipő – fehér basic top – blézer összeállítást választott tegnapra. Hahh, epic :D
Legyen gyönyörű hétvégétek, jó pihenést Nektek!
Puszi: Mesi
_____________________________________________________________________________________________
Hello my Dears,
I've just got up and looked out of the window and I must say wow, love this bright, sunshinny day! I just wanna be outside all day, walking, enjoying the sun etc.
Yesterday I ha no time to make this post, so today you'll see what I wore the day before. It is a school - kind - of outfit again, so you'll see basic clothes: fur vest, leather jacket, basic white top and skinny jeans - so clothes that can be found in every girls closet nowadays. I do love layering so instead of wearing my coat I've chosen a fur vest - leather jacket combo, for me, they're perfect together! I also fed up with boots (and winter of course), so I've changed my footwear too: I didn't want to torture my feet all day with high heels, so I've chosen a pair of comfortable sneakers. Beside the basic elements, I wanted something extraordinary in my daily set, so I picked up this statement pearl necklace from Zara. Since I've seen the SS13 Chanel catwalk photos, I do love huge pearls, so when I found this one at Zara, I had to buy immediately! Do you like it,anyway?
Basically, I called Panni yesterday (to ask how she is and when we can meet) and she said she'd made some outfit photos too - with skinny jeans, sneakers and white top. Hahaha, epic :D
Hope you'll have a beautiful weekend!
Kisses,Mesi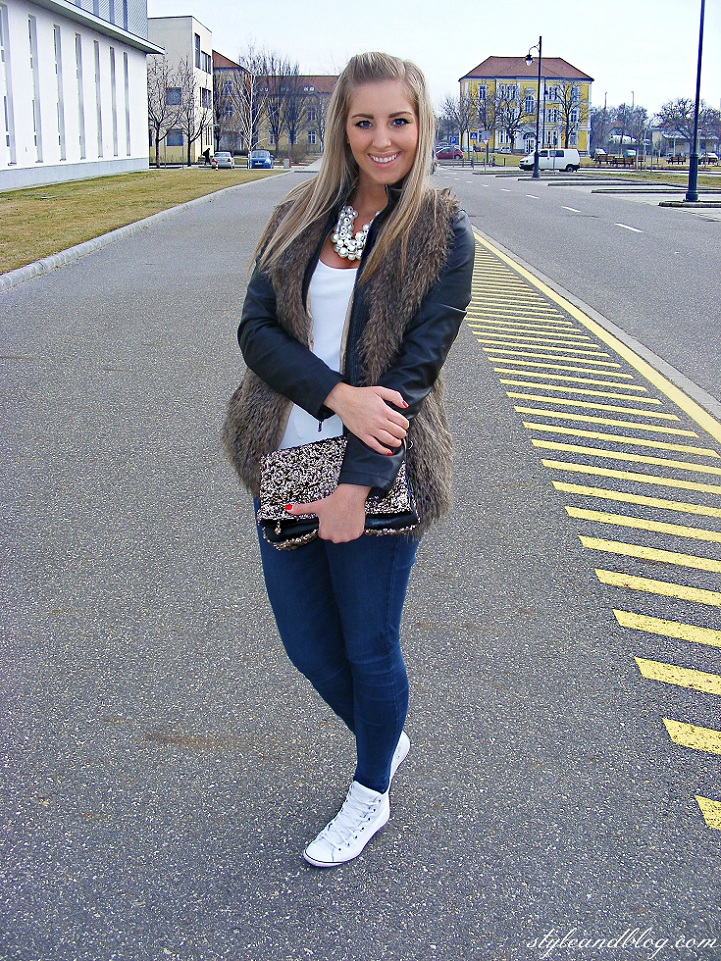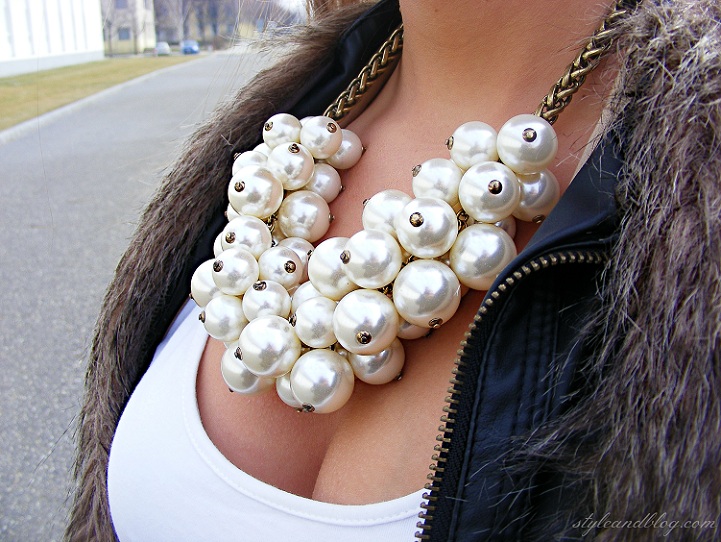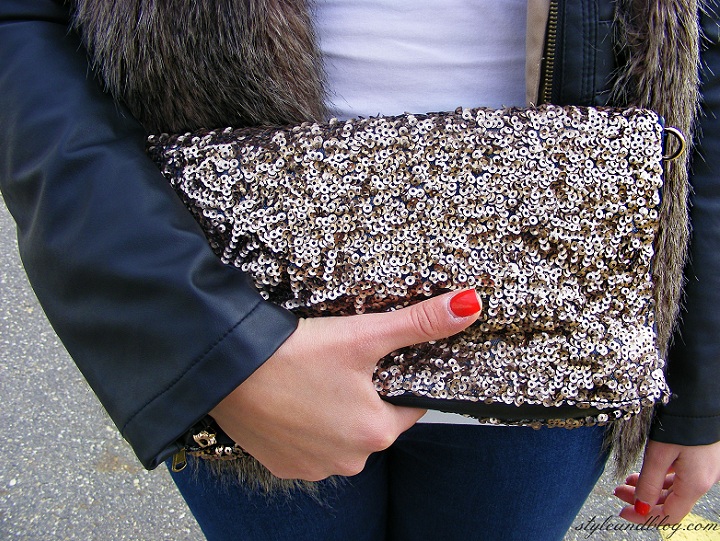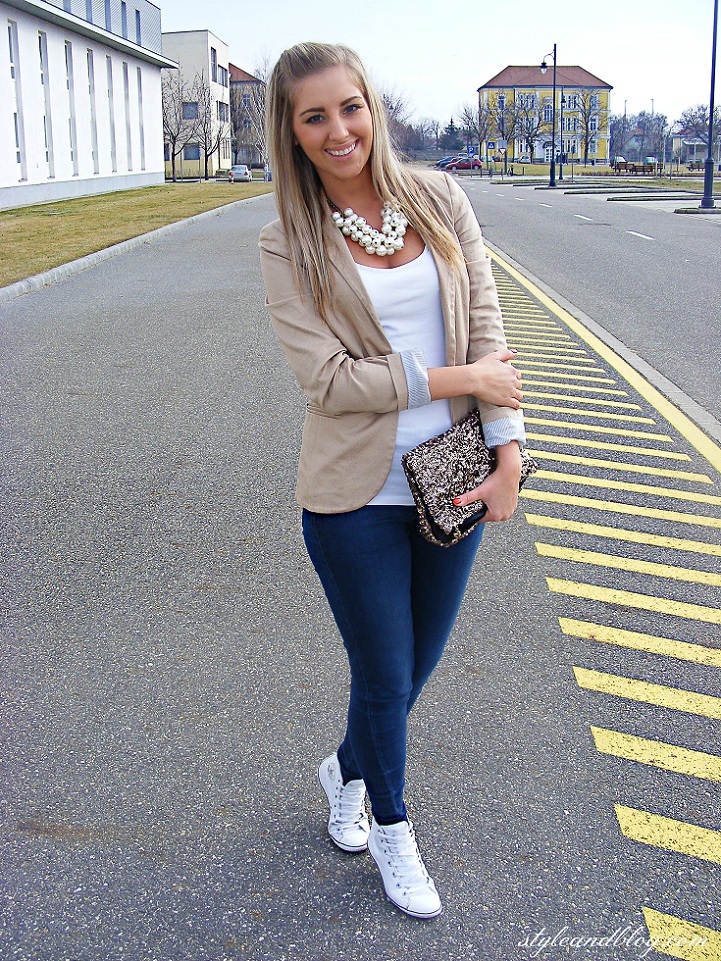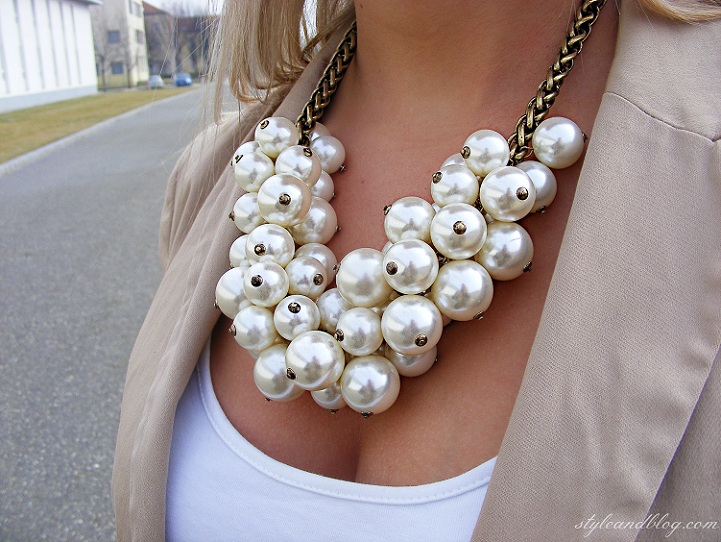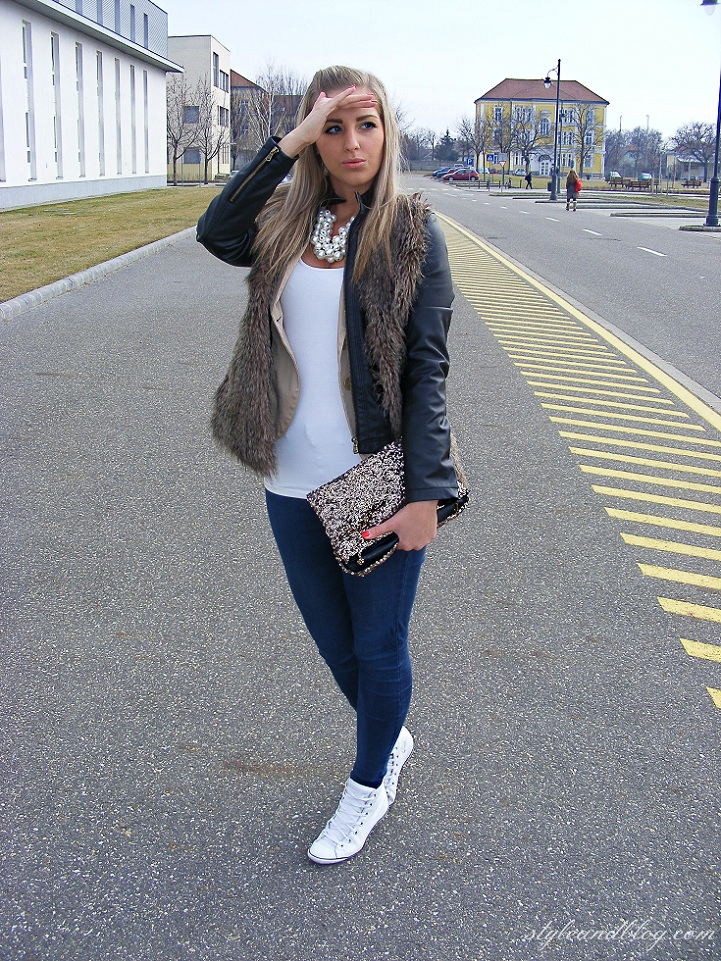 OUTFIT
SZŐRME MELLÉNY / FUR VEST - STRADIVARIUS
FEKETE DZSEKI / LEATHER JACKET - APHRODITE DIVAT / LOCAL SHOP
FARMER / SKINNY JEANS - LEVI'S
BLÉZER / BLAZER - STRADIVARIUS
BASIC TOP- H&M
TÁSKA / SEQUINNED CLUTCH - STRADIVARIUS
TORNACIPŐ / SNEAKERS - CONVERSE
STATEMENT NYAKLÁNC / STATEMENT NECKLACE - ZARA
[PHOTOS - BERTI]
SHOP THE LOOK