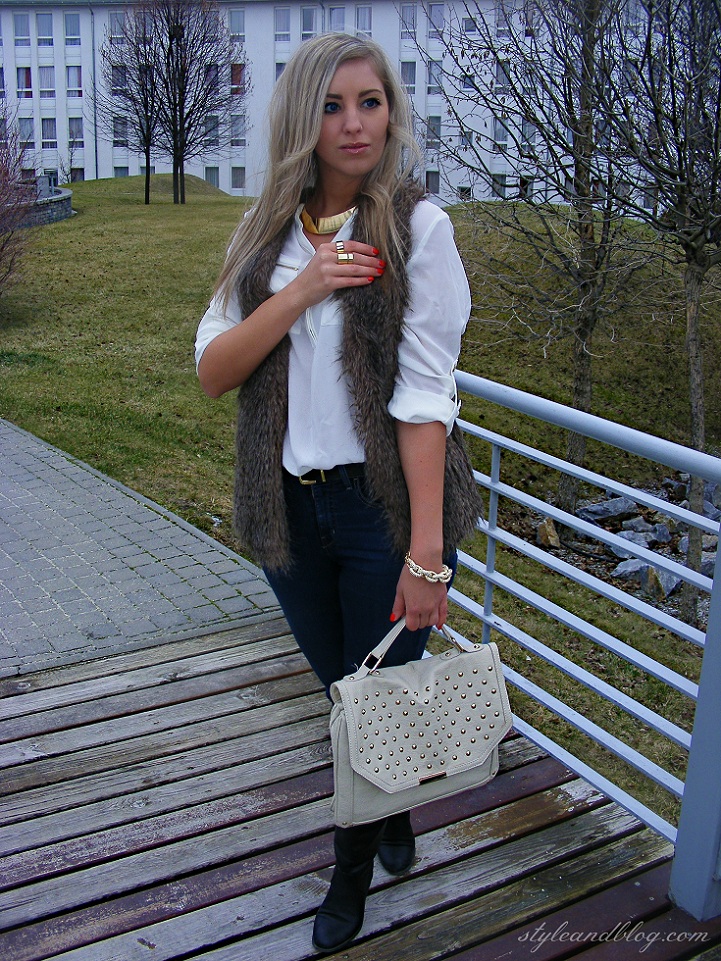 Sziasztok!
Tegnap már nagyon fáradtak voltunk, késő este értünk haza Budapestről - ma viszont újult erővel kezdtem el az "új tanévet". Az elmúlt hét nagyon eseménydús volt, pénteken a Debreceni Egyetem díszudvarán átvehettük Bertivel a diplománkat, hivatalosan is közgazdászok vagyunk - juhúúú! Tegnap pedig elkezdődött a mesterképzés első hete. Nagyon furcsa volt fél év kihagyás (az elmúlt félév szakdolgozatírással, államvizsgára készüléssel telt, zömében a négy fal között ültünk) után újra beülni az iskolapadba.
Úgyhogy ma egy kényelmes sulis outfitet hoztam Nektek. Számomra a kényelem a legfontosabb ezeken a napokon, így lapos csizmát, farmert és egy meleg szőrme mellényt választottam, a kedvenc clutchomat pedig pakolós táskára cseréltem. Az arany kiegészítőket ma sem hanyagoltam, szeretem feldobni velük ezeket az egyszerű összeállításokat is. Ti mit viseltetek ma? Mi a kedvenc sulis szettetek?
Remélem jól telt a napotok, sok puszi: Mesi
_____________________________________________________________________________________________
Hello my Dears,
Yesterday - as I mentioned - we were so tired, it was late at night when we arrived home from Budapest. Today a new semester started. The last few days were so busy, me and Berti got our diploma on Friday, so we're economists now, yuppppy! So now we continue the master course, lessons started the last day. It is so hard to pick up the pace again, but we're on it!
So today I was wearing a comfy and classy outfit for school: comfortable jeans and boots and a warm fur vest. I have also changed my pretty clutches to bigger bags in order to carry my school stuff.
And you? What kind of sets do you prefer for school days?
Hope you had a beautiful day!
Kisses,
Mesi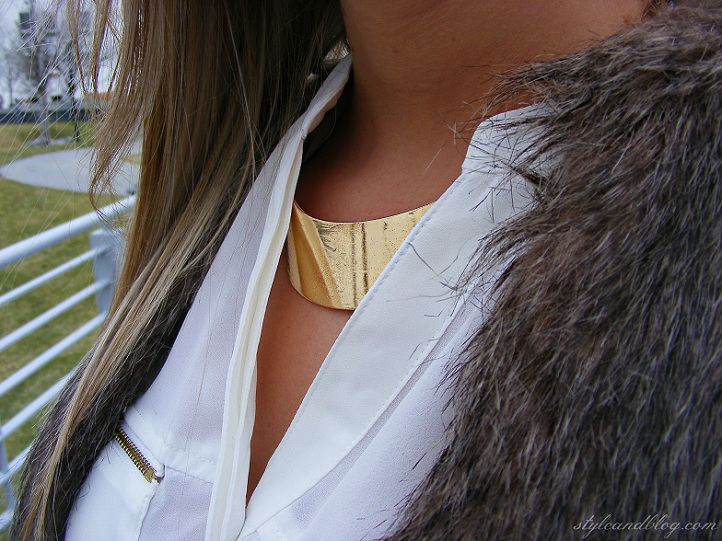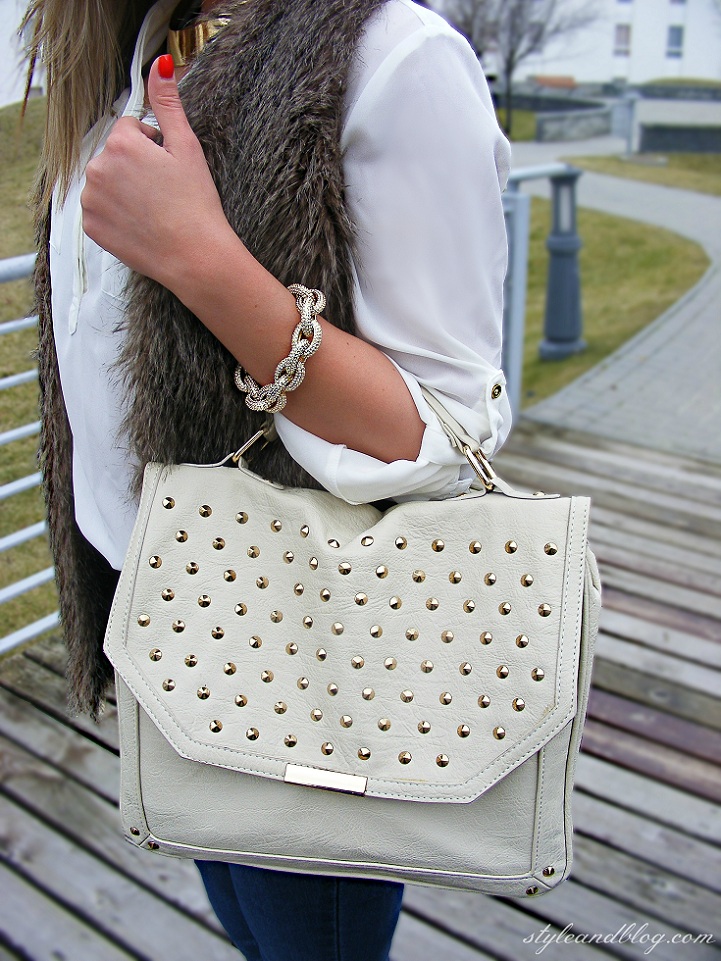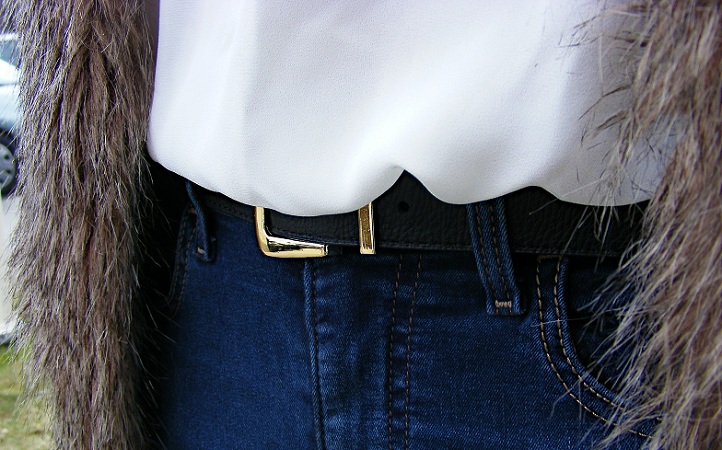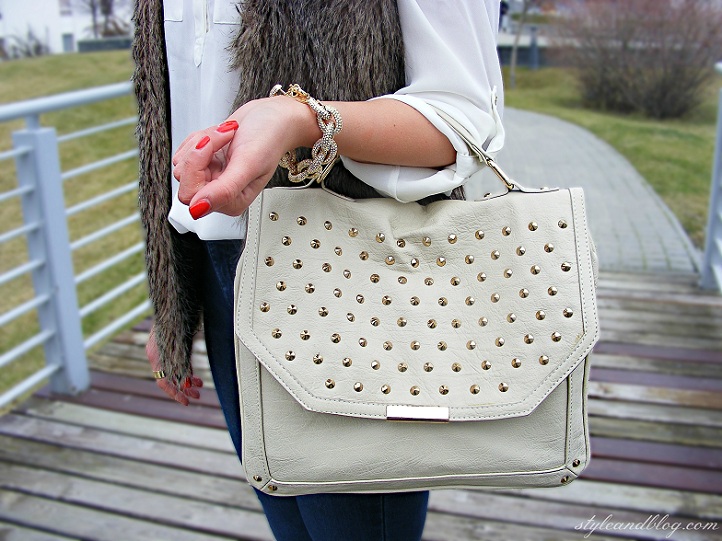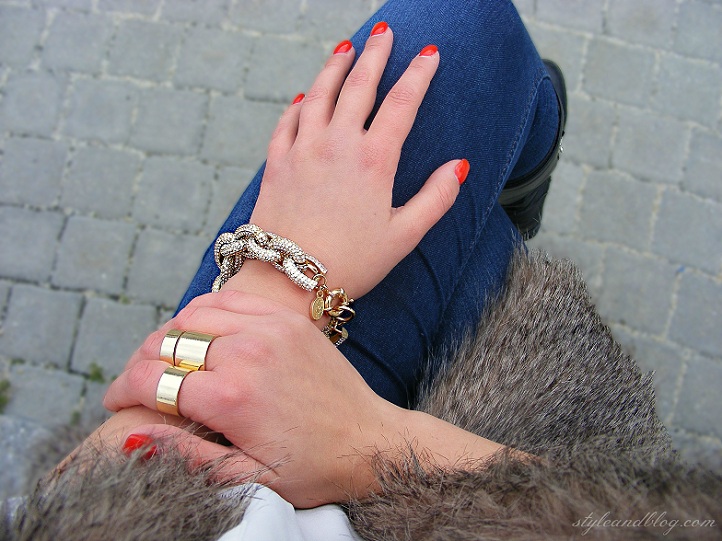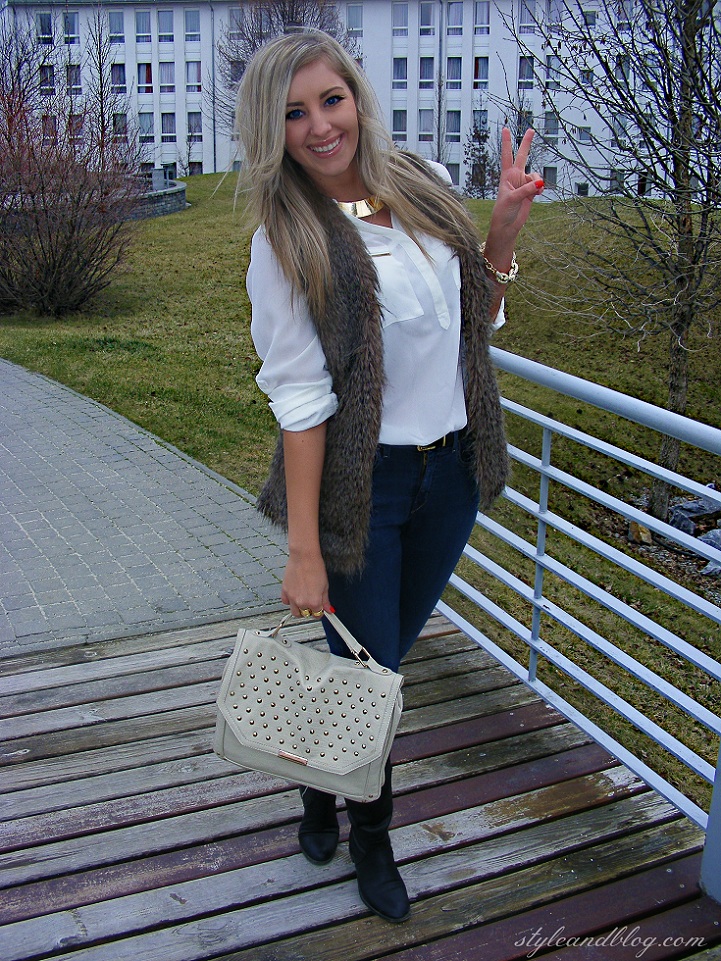 OUTFIT
FEHÉR ING / WHITE SHIRT - C&A
(régi / old )
SZŐRME MELLÉNY / FUR VEST - STRADIVARIUS
FARMERNADRÁG / JEANS - LEVI'S
ÖV / BELT - STRADIVARIUS
SZEGECSES TÁSKA / STUDDED BAG - STRADIVARIUS
(régi / old )
CSIZMA / BOOTS - PULL AND BEAR
KARKÖTŐ / RHINESTONED CHAIN BRACELET -
LROX
GYŰRŰK / CUFF RINGS - H&M
[PHOTOS - B]
SHOP THE LOOK
A képeken látható nyaklánc pontos mását MEGNYERHETITEK Facebook oldalunkon.