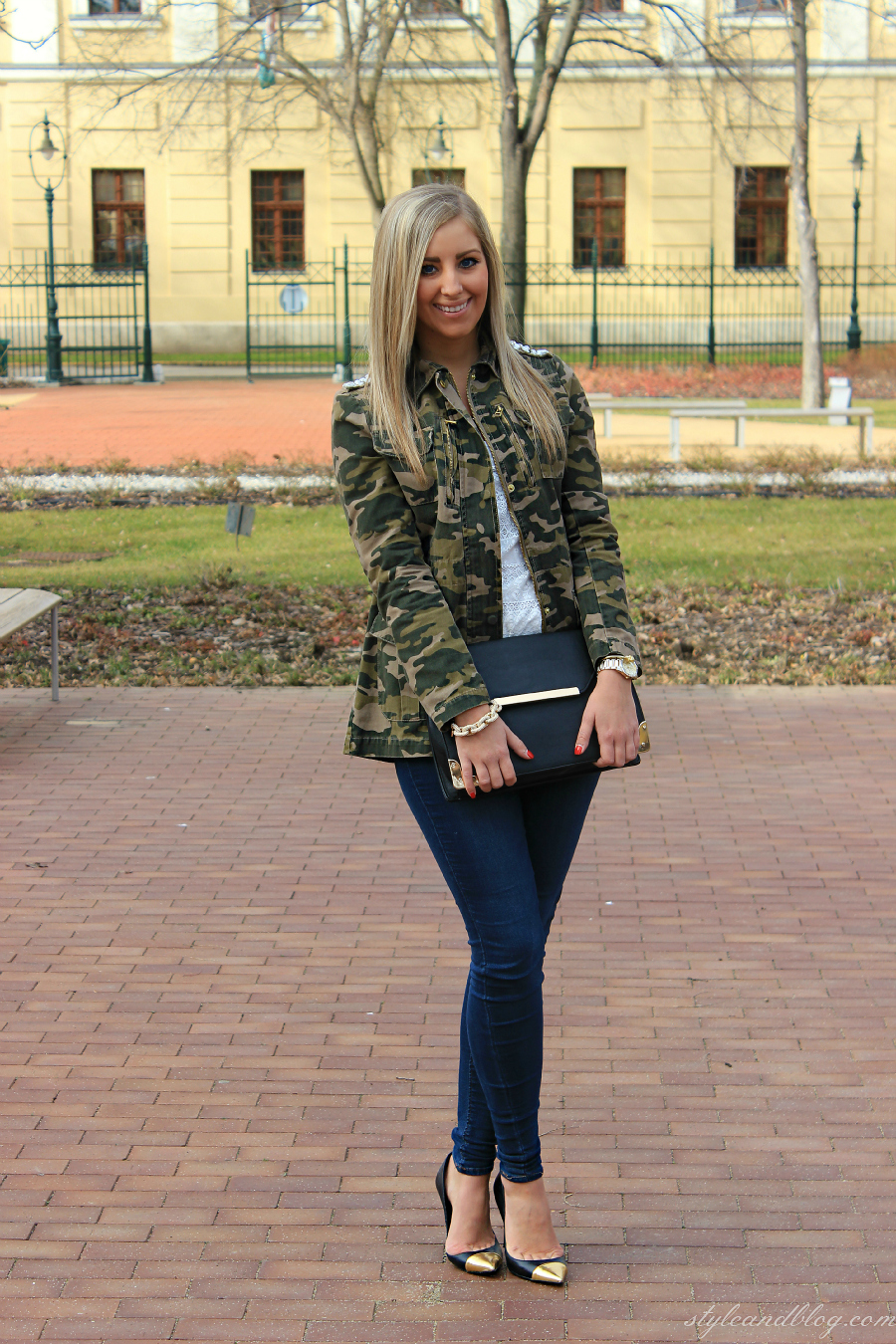 Sziasztok!
Hogy vagytok? Én nagyon fáradt vagyok, ugyanis a tegnapi Oscar -gála reggel 6 órakor ért véget - s persze minden pillanatát látnom kellett! Elég régóta van egy sajátos szokásom, mindig izgatottan várom a jelöltek listáját, s az átadóig igyekszem minden alkotást megnézni, legyen szó rövidfilmről, animációról vagy az aktuális kasszasikerekről. Idén három filmet nem sikerült időben megnéznem: az Amour, a Nyomorultak és az A Bin Laden hajsza maradtak el, de a napokban garantáltan pótolni fogom őket.
A díjátadót online néztem, a Pro7 csatorna internetes verziójának köszönhetően semmiről nem maradtam le, bár több, mint 1 órányi reklámot sikerült betuszkolniuk a műsorba, baaah. A vörös szőnyeg- interjúkat idén különösen unalmasnak találtam, s - kövezzetek meg - nekem az idei lookok nem tetszettek. Még Jennifer Lawrence Dior ruhájától se estem hasra (nem úgy, mint Ő, haha). Szerintem a legjobban öltözött (ismét) Octavia Spencer volt, imádom nőies és vidám stílusát. A legszebbnek Jessica Chastaint találtam - nem tudom, mit műveltek a fodrászai, de külön Oscar járna nekik, wow! A toplistámra persze felkerült az elbűvölő Quvenzhané Wallis és imádnivaló puppy purse-e is, ez a kislány egy tündér! A show maga fergeteges volt, nekem nagyon tetszett. A kritikákkal ellentétben én jól szórakoztam Seth Macfarlane sajátos viccein és dalain, van valami szeretnivaló abban a fickóban. A díjazottakkal is egyetértettem, sőt, Christoph Waltz győzelmének bejelentésekor felkiáltottam - isteni színész! Bár nem rajongok különösebben a Tarantino filmekért, a Django elszabadul fantasztikus lett: izgalmas és lebilincselő alkotás nagyszerű színészi alakításokkal fűszerezve. Ha tehetitek, nézzétek meg mindenképpen! :))
Nektek voltak kedvenceitek? Ha igen, kinek drukkoltatok? Szerintetek ki volt a legjobban / legrosszabbul öltözött?
Legyen szép estétek, sok puszi: Mesi
_____________________________________________________________________________________________
Hello Ladies,
How are you today? I'm a little bit tired, last night I was watching the Academy Awards that ended 6 am in the morning. I'm always so excited about this event, when the full list of the nominees comes out I start watching them from the first to the last one. I love short films and animations as well. This year 3 movies left: Amour, Les misérables and Zero Dark Thirty, unfortunately I had no time to finish them, but sure I will!
Thank to Channel Pro7 I could watch the full ceremony online. The red carpet interviews were a little bit boring this year and I didn't even like the looks and dresses, I am sorry to say - not even Jennifer Lawrence's Dior dress. For me, the best dressed woman was stunning Octavia Spencer, while the most beautiful makeup and hairstyle belonged to Jessica Chastain. Quvenzhané Wallis was also at my toplist with her natural beauty and lovely puppy purse. OMG, so cute!The show was amazing and despite of all the critisism I love Seth Macfarlane's offensive style of humor. There's something adorable in this guy! Anyway, I can agree with the Academy's decisions, all the winners deserved the small statues. My all time favourite was Christoph Waltz, so glad he won it, wohoo! I'm not a kinda Tarantino-fan, but his new film called Django Unchained is amazing, with it's great story and perfect casting it would deserve more. You should watch it! :))
And what about you Ladies? Did you see the ceremony? Do you agree with the winners? Who were the best and worst dressed, what do u think?
Have a beautiful night! Kisses, Mesi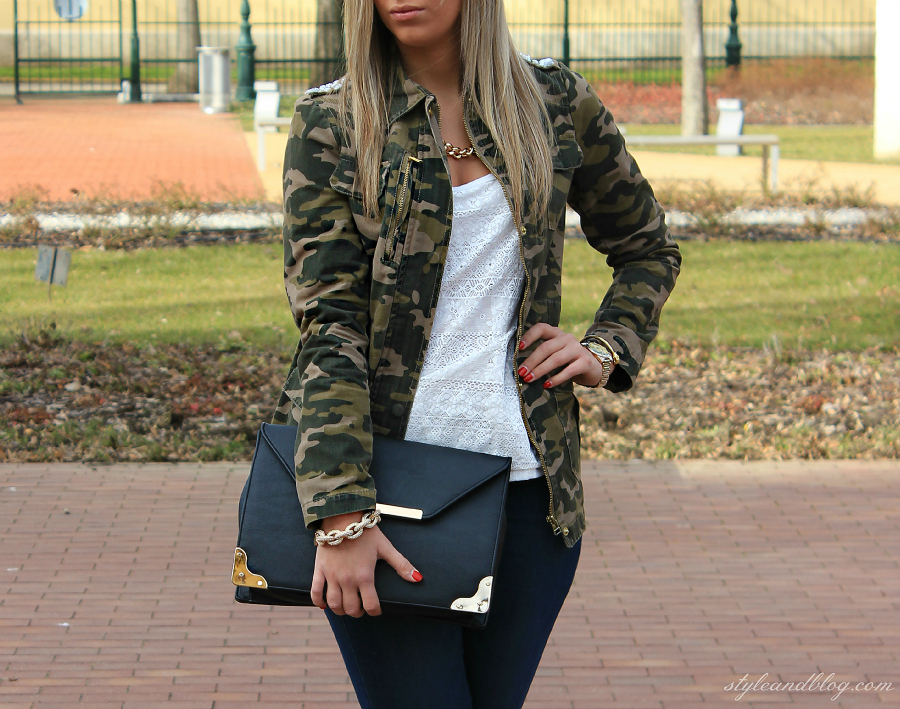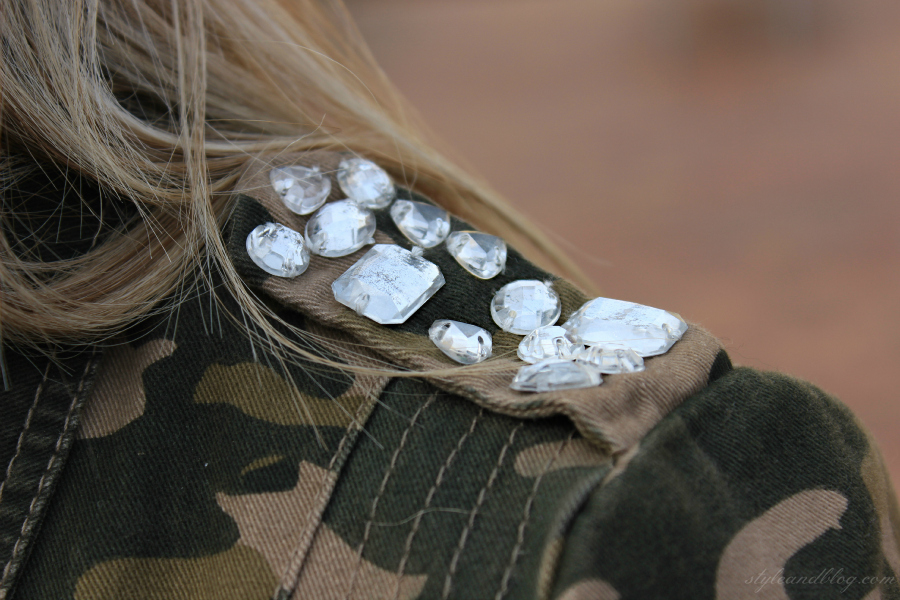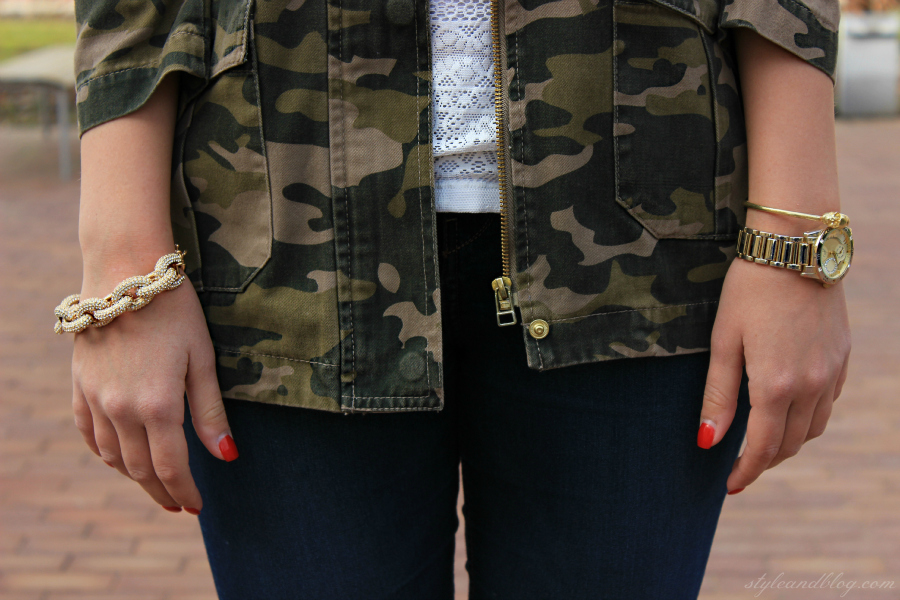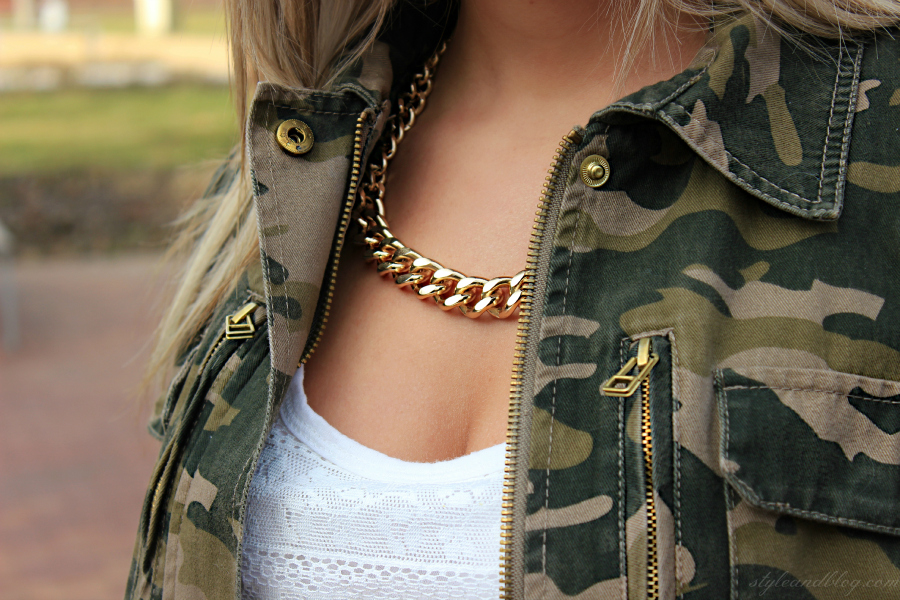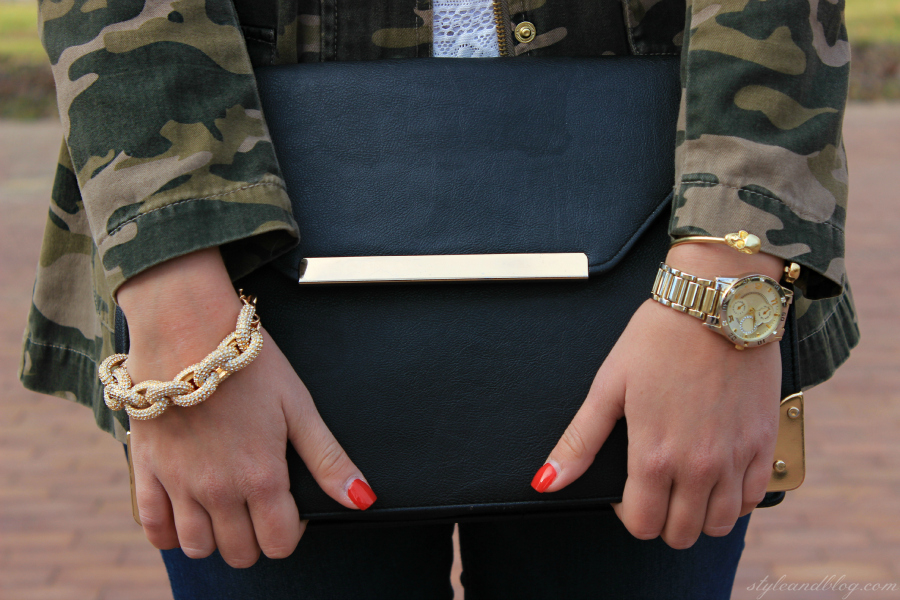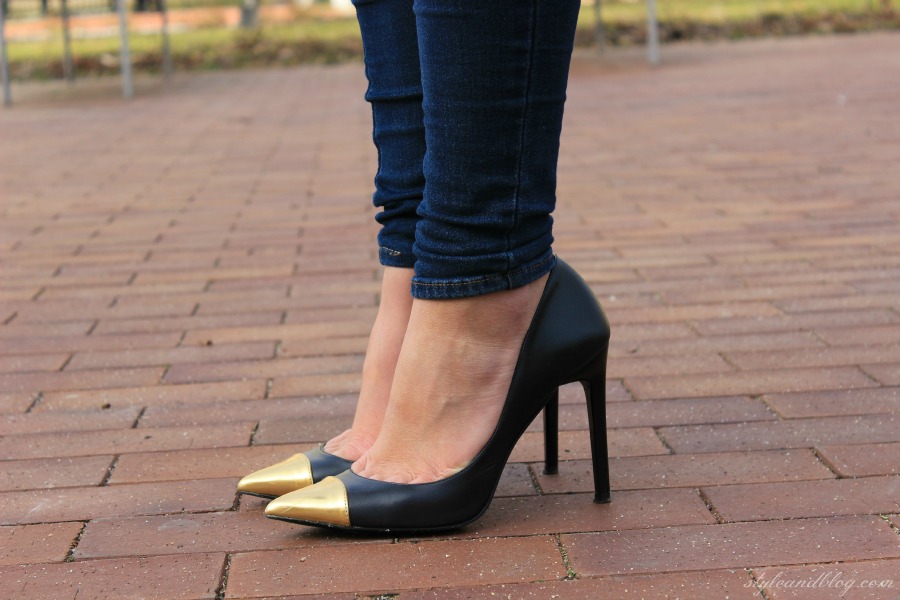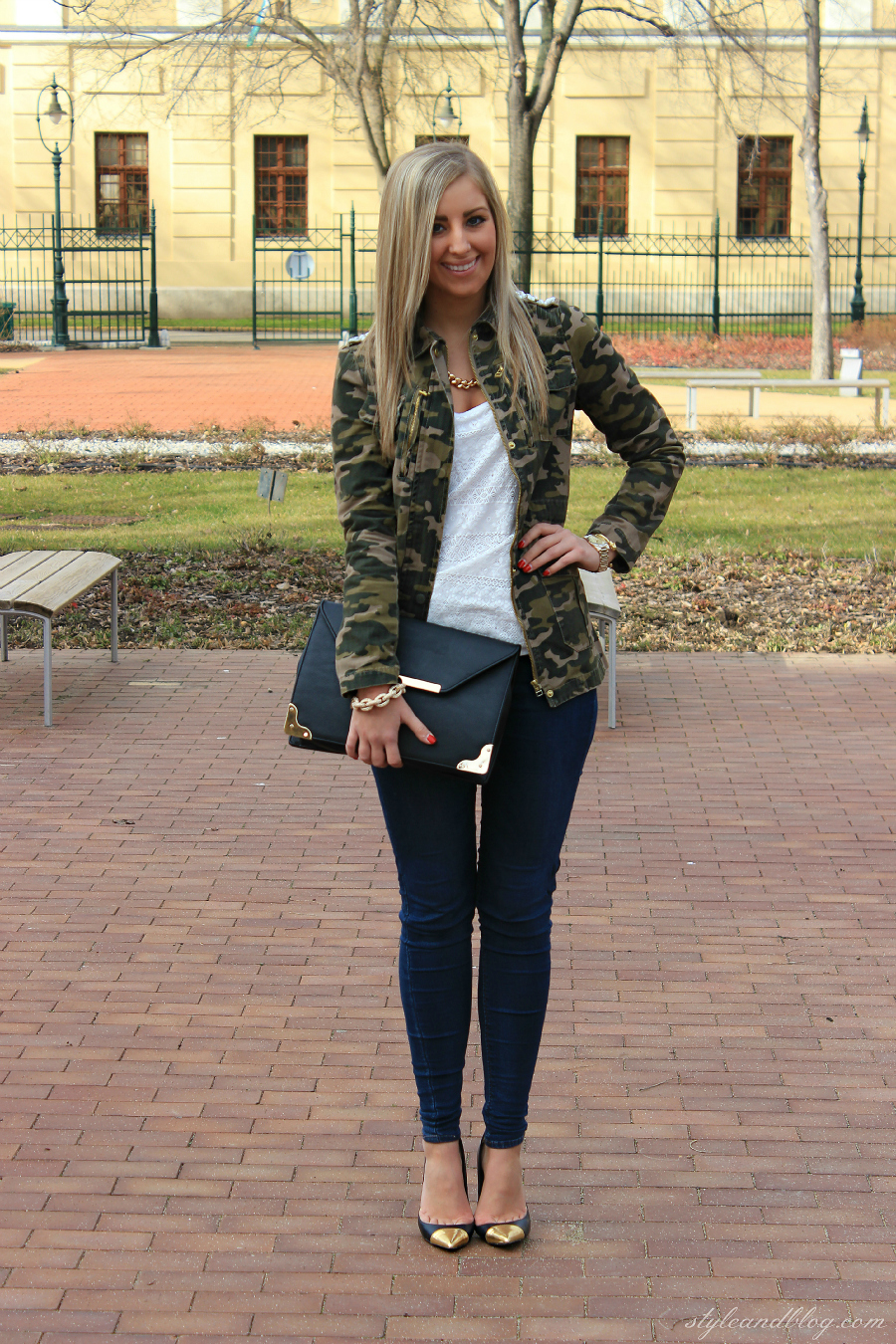 OUTFIT
CAMOUFLAGE KABÁT / CAMOUFLAGE JACKET - STRADIVARIUS
CSIPKÉS TOP / LACE TOP - NEW YORKER (régi/ old)
FARMER / SKINNY JEANS - LEVI'S
NYAKLÁNC / NECKLACE - H&M
KARKÖTŐK / BRACELETS - LROX (rhinestoned chain) | ASOS (skull)
TÁSKA / BAG - STRADIVARIUS (régi/ old)
ÓRA / WATCH - BIJOU BRIGITTE
MAGASSARKÚ / CONTRAST TOE CAP HEELS- MANGO
[ PHOTOS BY OLAHBERTI ]