Sziasztok! Ma outfit bejegyzés helyett pár személyes képet szeretnék Nektek megmutatni az elmúlt időszakból. A szakdolgozat leadása után alig vártam, hogy végre újra a barátaimmal és a családommal legyek. Egyik hétvégén meglátogattuk Nővéremet és a csodaszép családját Győrben. Győr egyszerűen szuper, teljesen beleszerettem, gyönyörű a belváros, és a Duna-part is mesés. Tesóm már két vagány gyerkőc édesanyja, akiket imádok. Annyira jó velük lenni,és meg kell mondjam, legalább kétszer annyi energiájuk van egy napra, mint nekem :)))), úgyhogy toppon kell lenni, nincs megállás, játszunk, hintázunk, futunk, felfedezünk non-stop! :D Most születtek kiscicák náluk, róluk is van pár kép, ohhhh tündérien aranyosak! <3 :)
Egyik nap az egész család összemérte erejét Scrabble szókirakó játékban. Elég nagy hátránnyal indultam, látjátok majd az egyik képen, hogy rémes betűim voltak, ráadásul Anya az első körök egyikében előrukkolt egy 50 pontos szóval, amivel óriási előnyt szerzett, de a végén (jó szokásomhoz hűen :DD) nyertem, haha!
Nagyon szeretem ezeket a nagy családi hétvégéket, nyáron ők jönnek haza Debrecenbe, és már alig várom, hogy újra találkozzunk.
Hello! Today I would like to show you some personal pictures instead of outfit. After finishing my thesis I couldn't wait to see my friends and family. One weekend we visited my sister and her beautiful family in Győr. Győr is fantastic, I love it, with it's amazing city center, and the Danube. My sister has two children, who are adorable. It's so good to be with them, I have to say they have twice the energy as I do. So I have to be on top, no stop, we play, we swing, run and discover non-stop! :D Now they have new born kitten, they are so cute! <3
One day the whole family played Scrabble. I started it with a huge drawback, as you can see on one of the pictures I had terrible letters, plus my mom had a word for 50 points that edged her over, but in the end – as usual – I won! :D haha!
I love these family weekends, in the summer they will come to Debrecen, I can't wait to see them again!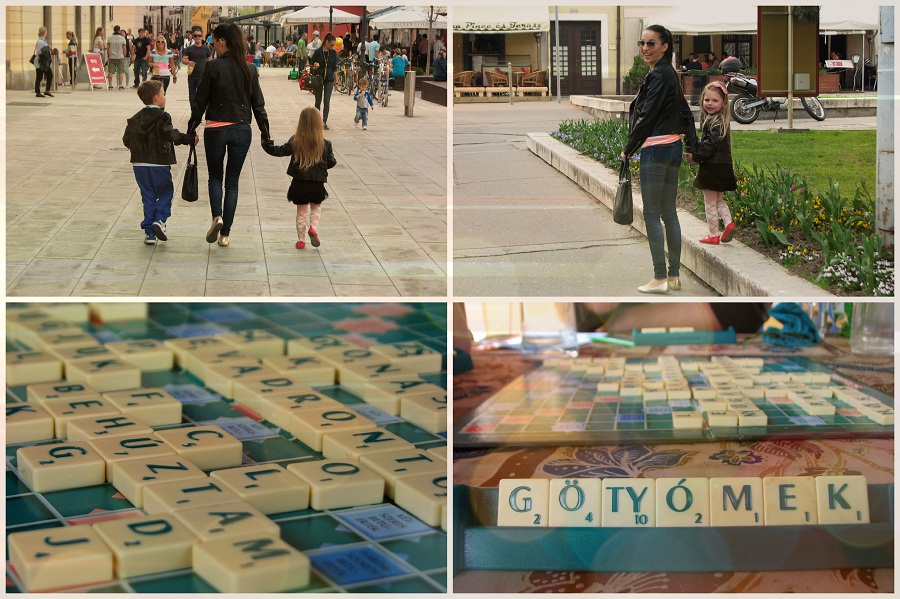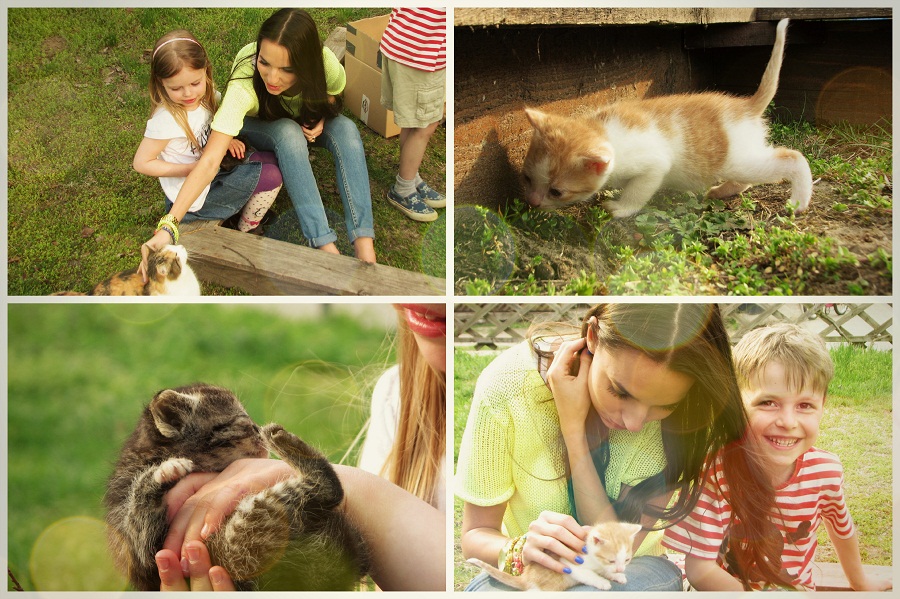 Nem kérdés, nagyon szeretjük a hasunkat Árpival, ezért gyakran főzünk otthon mindenféle finomságot. Gyakori, hogy a névnapokon, szülinapokon is egy klassz vacsit csinálunk, jobban szeretjük ezeket az élményeket, mint az ajándékozást. Mesivel, és Bertivel is gyakran szervezünk közös főzést, olyan jó hangulata van ezeknek az estéknek, éppen most tervezünk egy jó kis grillpartyt, ha már ilyen szuper idő van! :) A képeken láthatjátok, hogy az egyik este már sikerült tökéletesre fejleszteni Anya híres vastagtésztás pizza receptjét, mhhhh, nagyon jól sikerült.
Legutóbb pedig grillezett lazac falatokat ettünk cukkinivel, és paprikával. Árpi szerencsére szeret főzni, így szinte sohasem vagyok egyedül a konyhában. ;)
No question: Árpi and me, we love to eat, so we often make delicious food at home. It's also usual that we go somewhere out to eat something fancy on birthdays or other holidays, we love to give experiences rather than presents. We love to do this with Mesi and Berti too, we like to cook together, it's so great, now we plant to go grill something in the woods, if we have such a good weather. You can see on the pictures that one night we developed my mom's thick pizza receipt to level perfect. mmmmh it was soooo good. Last time we grilled salmon with pepper and zucchini. I am lucky that Árpi likes to cook so I am never alone in the kitchen. ;)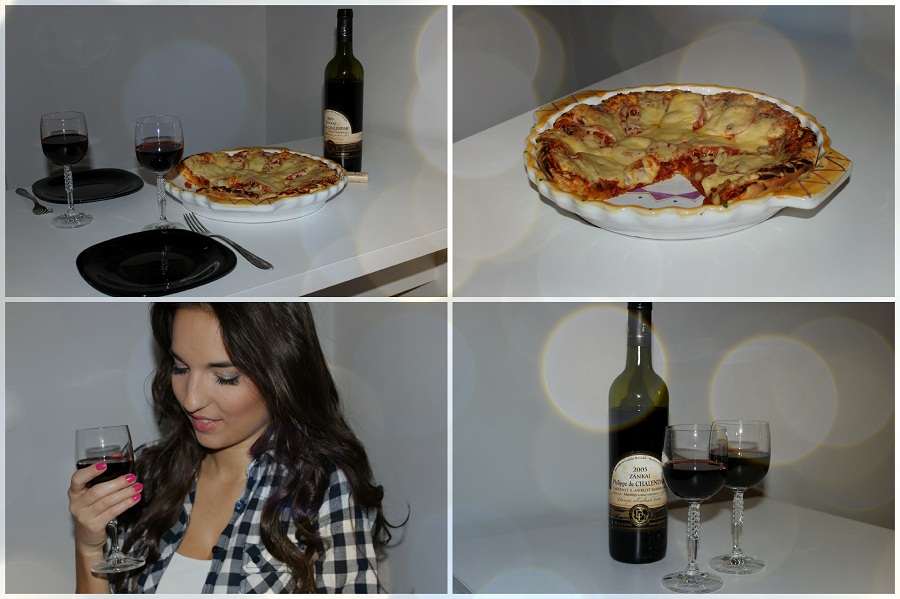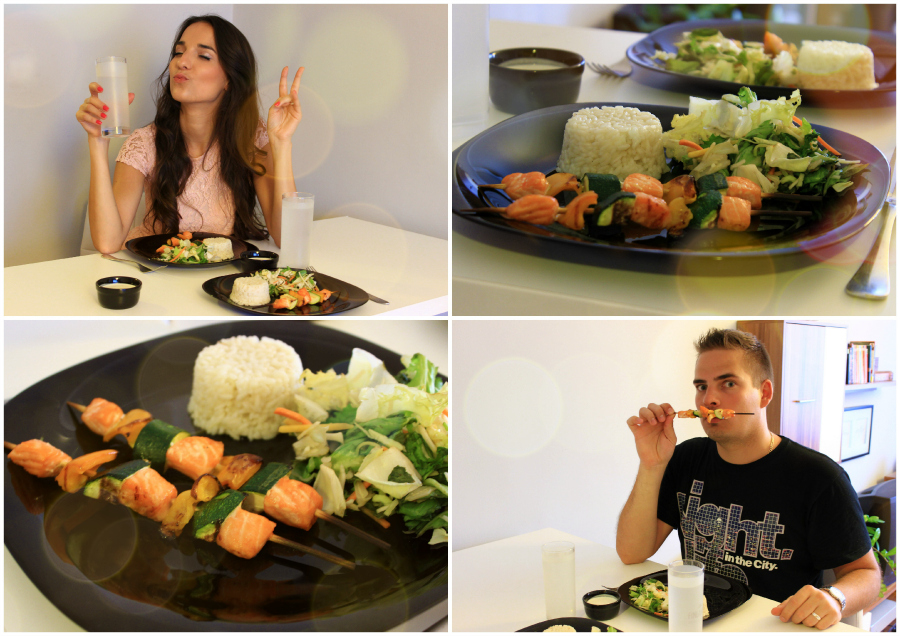 Már alig vártam a strand időt, így jó előre vettem egy új bikinit az ebay.com oldalról. Szerencsére méretben is tökéletes, egyedül attól félek, hogy hamar el fog színeződni rajta az aranyozott fém dísz. Arra gondoltam, hogy úgy, mint az ékszereimet, bekenem átlátszó körömlakkal, hátha azzal meg tudom óvni!
A két lime színű terméket, a nyakláncot és az övet a H&M-ben vettem, darabját 250 Ft-ért. Most egyébként is nagy rajongója vagyok ennek a színnek, így ilyen kedvező áron nem tudtam otthagyni őket! :)
I couldn't wait the beach season so I bought weeks ago a new bikini on eBay. Luckily it's size is perfect, I only afraid of that the gold color may wear out on the metal parts. I thought about varnishing it with clear nail polish as I do with some of my accessories too, maybe I can help it.
I bought these two lime color accessories at H&M, both were 250 HUF. I am a huge fan of this color now, so I must have bought them for this price!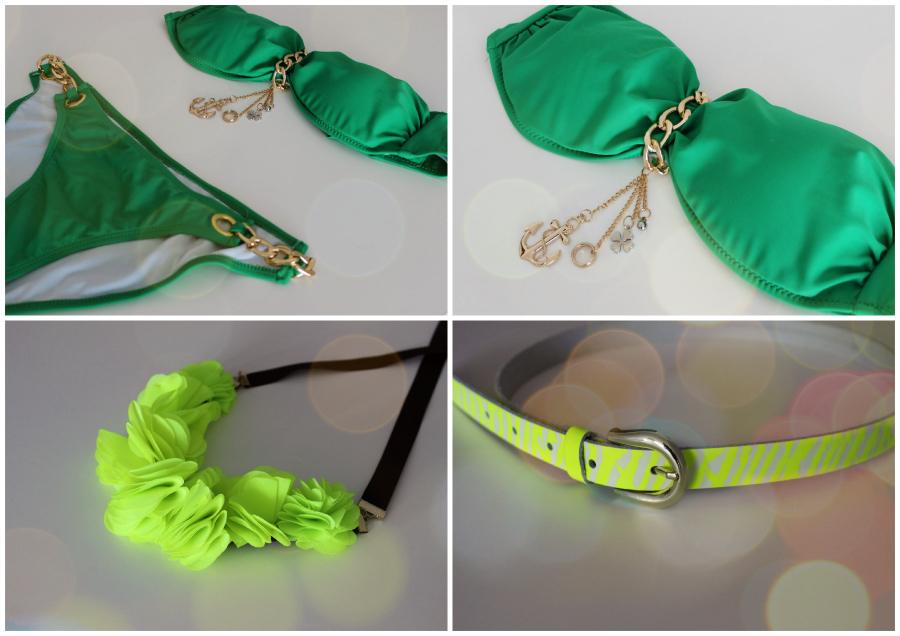 Végül pedig láthatjátok a legújabb sminktermékeimet. Hosszú idő után leváltottam a L'Oréal púderemet, és Mesi tanácsára kipróbáltam az Astort, és abszolút bevált.Nagyon elégedett vagyok, nincs maszk hatása, nem vagyok rá allergiás, és a fényesedést is megszünteti, szóval bátran ajánlom Nektek is.
A két új körömlakkomat már gyakran láthattátok rajtam a mostani bejegyzésekben. Sokan érdeklődtetek, így ide leírom a pontos nevüket:Astor 875: Electric Blue, és L'Oréal 210: Shocking Pink.
Nagyon szeretek szempillaspirált használni, és szeretem kipróbálni a legújabbakat. Most a L'Oréal False Lash Wings volt a kívánságlistámon. Nagyon érdekes a feje, az egyik oldala sokkal vastagabb, ez viszont megkönnyíti a felvitelt, és az összes szempillát könnyű elérni vele. Nagyon szép nagy pillákat varázsol, nem ragad, nem csomósodik, szóval azt hiszem ez lesz az új kedvenc. Ha ti is szeretnétek kipróbálni, érdemes hétvégéig várni, amikor a Joy napok keretein belül a Müllerben fél áron juthattok majd hozzá! ;)
You can also see my newest make up products. After a long time I changed my L'Oreal powder, and after Mesi's advice I tried Astor and it's perfect! I am satisfied with it, there is no mask effect, I have no allergy, and it stops shines, so I could recommend it to you too.
You could already see my new nail polishes on the blog, now I tell you exactly that they are Astor 875 Electric Blue and L'Oréal 210 Shocking Pink.
I love to wear mascara, and I love to try out the newest products. Now I use L'Oréal False Lash Wings. It has an extreme head that is thicker on one side that makes it easy to apply. It reaches all your lashes. It makes lashes beautiful, big, and it doesn't adhere, and doesn't make knots. I think it will be my new favorite. If you would like to buy one, you should wait until next weekend so you could buy it for a discount price at Müller with Joy Magazine.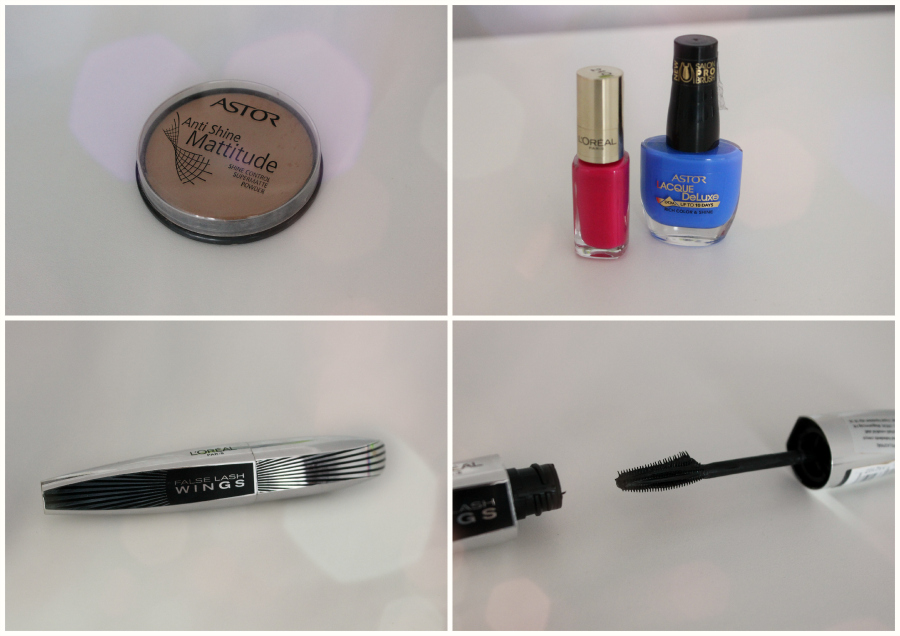 Végül egy neon nyakláncot láthattok, ami már szerepelt a blogon, de ezzel az összeállítással még nem láttátok. Ez is a napokban érkezett meg az ebay.com oldalról. Szeretem ezeket a feltűnő neon színeket, tele van energiával, és őrülten vidám!
Finally you can see a neon necklace that already was shown on the blog, but you could never see it in this set yet. It also arrived a few days ago from eBay. I like these neon colors, they are full of energy and they are fun!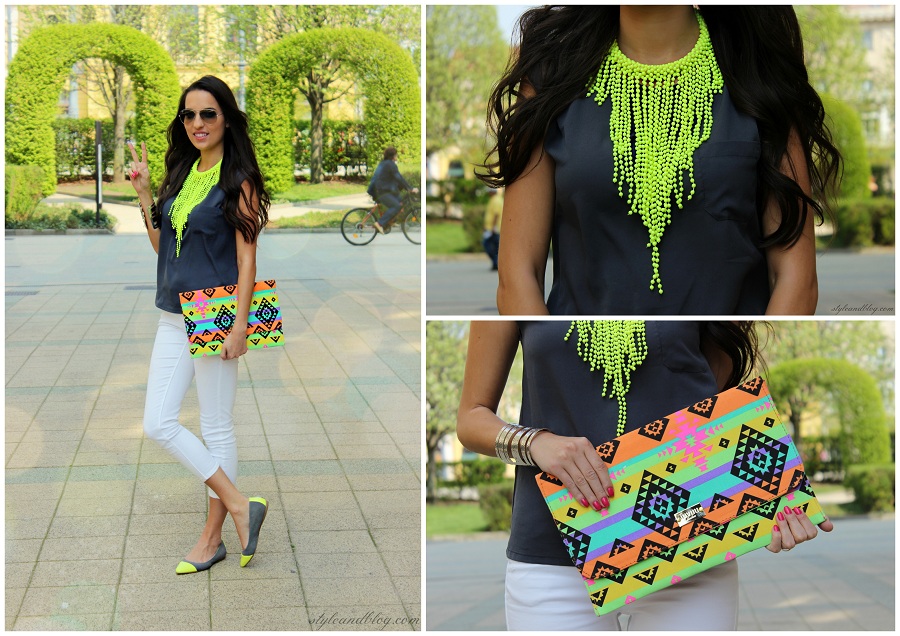 Nyaklánc - ebay, nadrág - Zara, felső - C&A, táska - Invuu London, karkötő - Six, cipő - Cropp TownNecklace - ebay, jeans - Zara, top - C&A, bag - Invuu London, bracelet - Six, shoes - Cropp Town
Remélem tetszett az összefoglaló, hamarosan újabb outfit poszttal jelentkezünk, addig pedig legyetek jók! ;) Puszóóóóó
I hope you liked my new summary! We are coming with new outfit post soon! Be good! ;) Kisses!