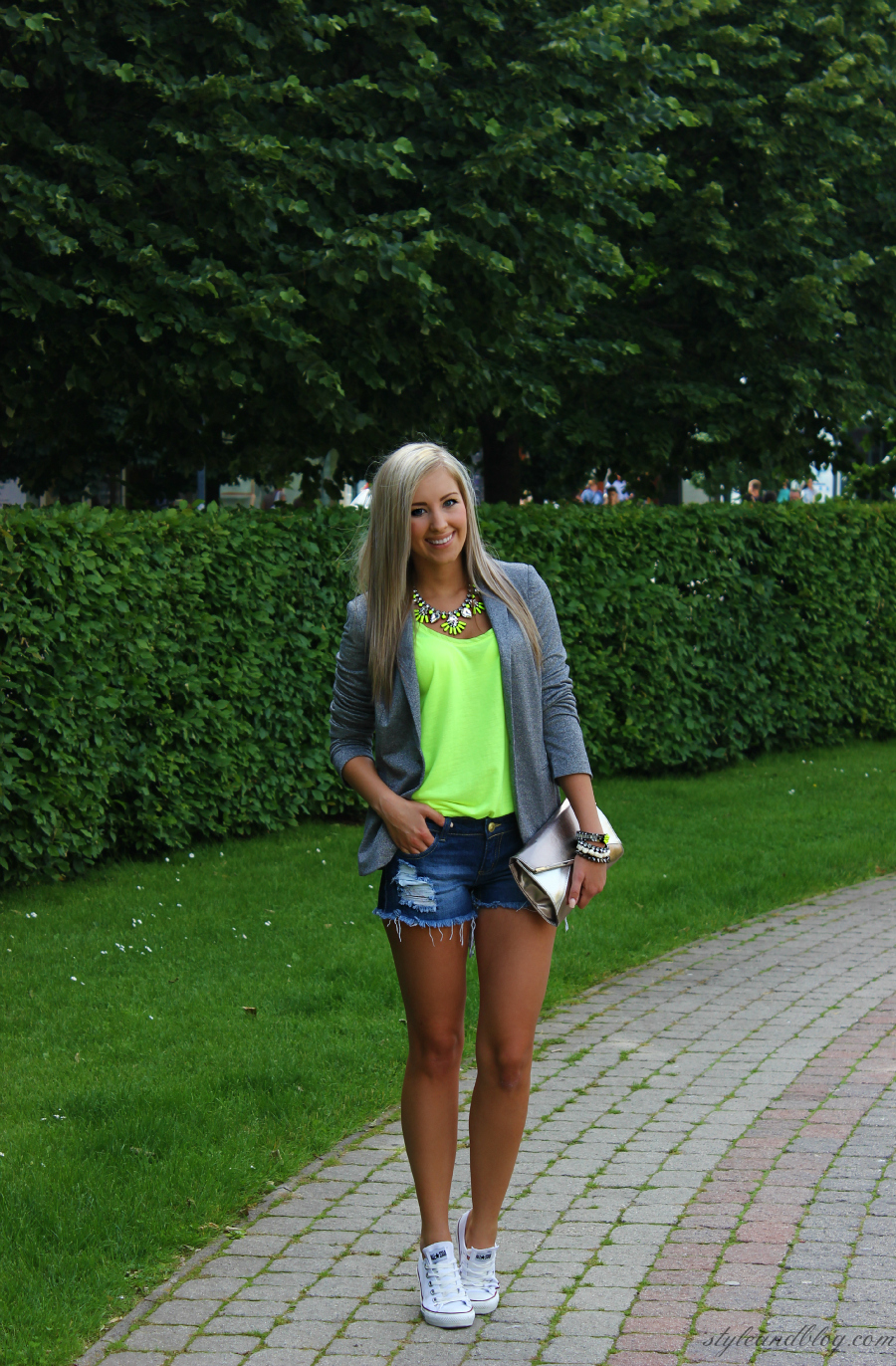 Jó reggelt Drágaságok!
Remélem jól aludtatok, velem ellentétben kipihentétek magatokat és újult erővel vágtok neki az új napnak! :)
Engem nagyon megvisel a rossz idő, és sajnos úgy tűnik, hiába tiltakozok neon színekkel és rövidnadrággal, a borús, esős időjárás még sokáig nem akar távozni.
Apropó, rövidnadrág! A rossz időnek hála ismét előkerestem néhány régi farmeremet és részben örömmel, részben csalódottan konstatáltam, hogy egyik régi kedvencem se jó rám ... egyszerűen mindből kifogytam. Persze ez önmagában klassz érzés, viszont kénytelen voltam beszerezni néhány alapdarabot. Bár nem különösebben szeretem a Tally Weijl termékeket, jelenleg is tartó "vegyél két rövidnadrágot és a második árából 50%-ot elengedünk" akciójukkal belopták magukat a szívembe :)) Végül a képeken látható sötét színű, szaggatott és egy magasított derekú, szegecses darab mellett döntöttem, mindkettő nagyon tetszik. Most rengeteg különböző színű és fazonú rövidnadrágból válogathattok egyébként, szerintem érdemes benézni!
A szettet tegnap viseltem, végre egy lazább, pihenős napom volt - a hétfői stratégiai menedzsment vizsga után kijárt már egy kis pihi. Ráadásul a héten végre edzeni is jutott időm, nagyon jó volt újra felülni a biciklire, ráadásul egy hét kihagyás után annyira elszoktam tőle, hogy rendesen izomlázam van. Moccanni nem bírok, áucs :D
A nap hátralevő részét sorozatnézéssel (hivatalosan is Homeland függő lettem, legalábbis másfél nap alatt letudni egy évadot elég szép teljesítmény), sétálással és nagy ruhamustrával töltöttük, ugyanis ma este a fővárosba készülünk, hogy személyesen is felköszöntsük a JOY magazint 15. születésnapja alkalmából. Nagyon kedves Tőlük, hogy meghívtak a szülinapi bulira, reméljük klassz lesz!
Legyetek jók, vigyázzatok magatokra és pihenjetek sokat!
Sok puszi:
Mesi
Hope you're all fine, have a happy morning and feel ready to attain your biggest aims today as well! :)
Me, I'm a little bit low-spirited because of this cloudy and rainy weather here in Hungary. And it seems like no matter I'm wearing neon shades and shorts, sunshine doesn't want to come.
By the way, shorts, yeah! Because of the bad weather I had to take out my old jeans and trousers, but I've realized that thank to my diet none of them fit me anymore. A part of me was really happy and proud but the another part felt a little bit angry - thinking oh my gosh I have to buy some new ones again. The fact is, Tally Weijl is not one of my favourite stores, but now I found pretty good sales there: if you buy two shorts you can get a 50% cutoff of the second one's. So I bought the dark blue ripped one seen in the pictures, and a studded high waisted one - love both of them! You might find many lovely colors and styles, check local Tally Weijl shops Dolls, if you're interested! :)
I wore this outfit yesterday, which luckily was a really lazy day for me. After my exam on Monday I needed some days to have a rest, do some sports (nowadays I love spinning), have big walks and watch series all day (I'm addicted to Homeland, I've finished the first season during 1,5 days). Do you have favourite series?

Have a beautiful day! Big kisses,

Mesi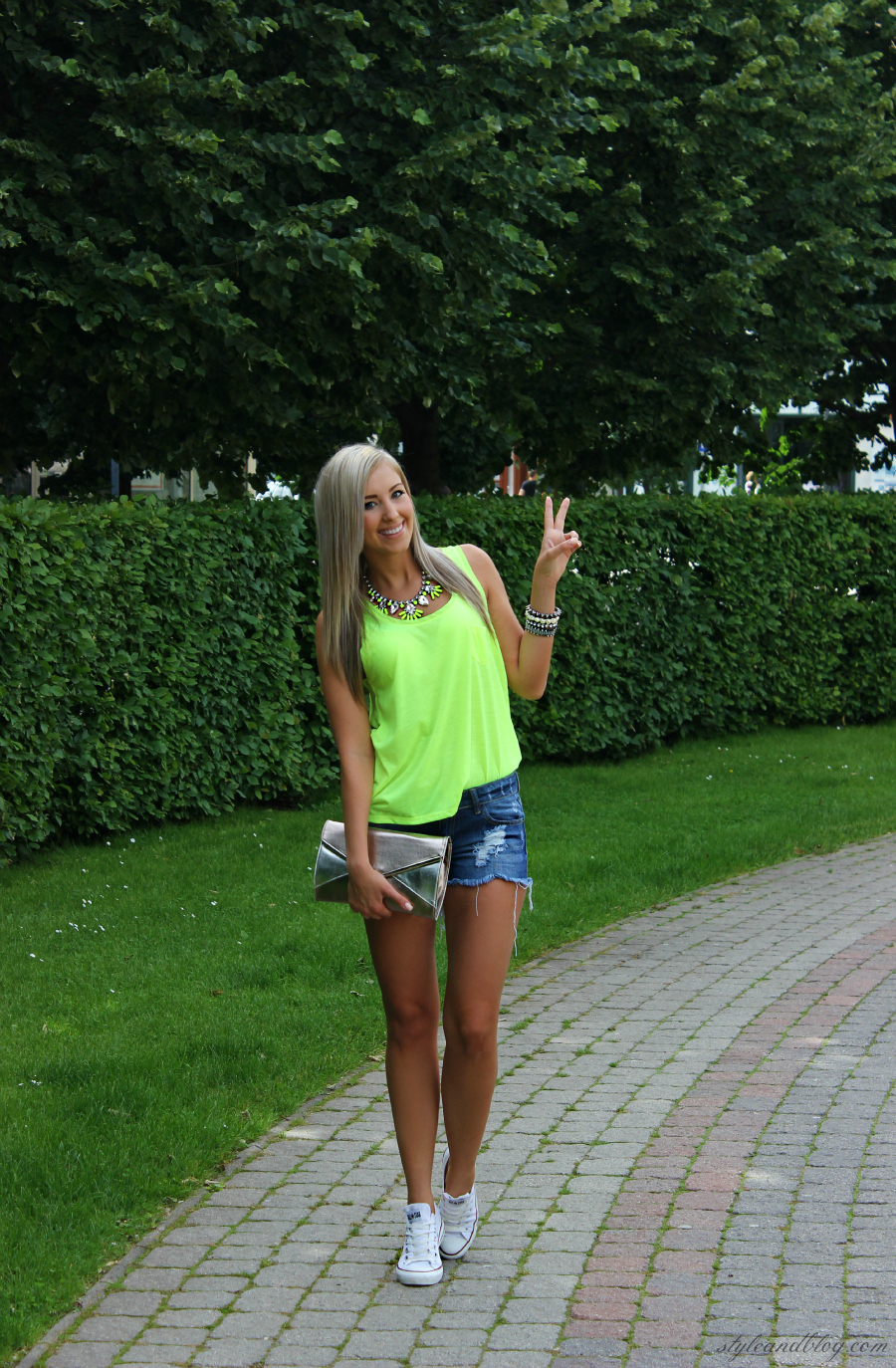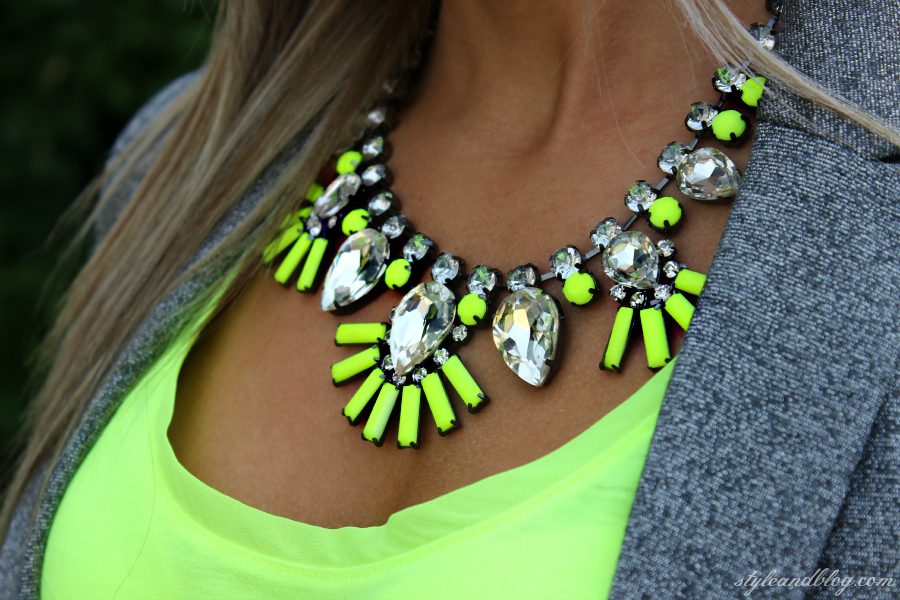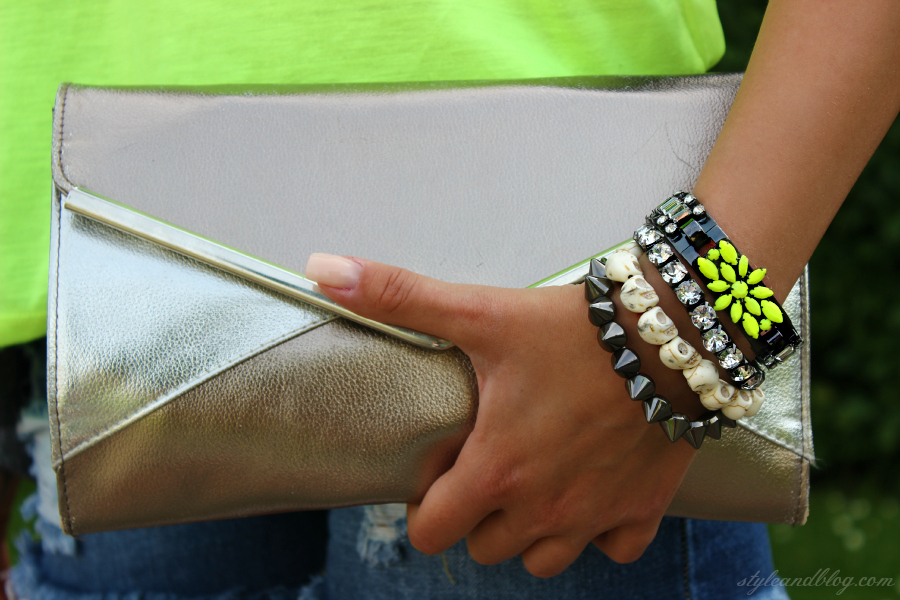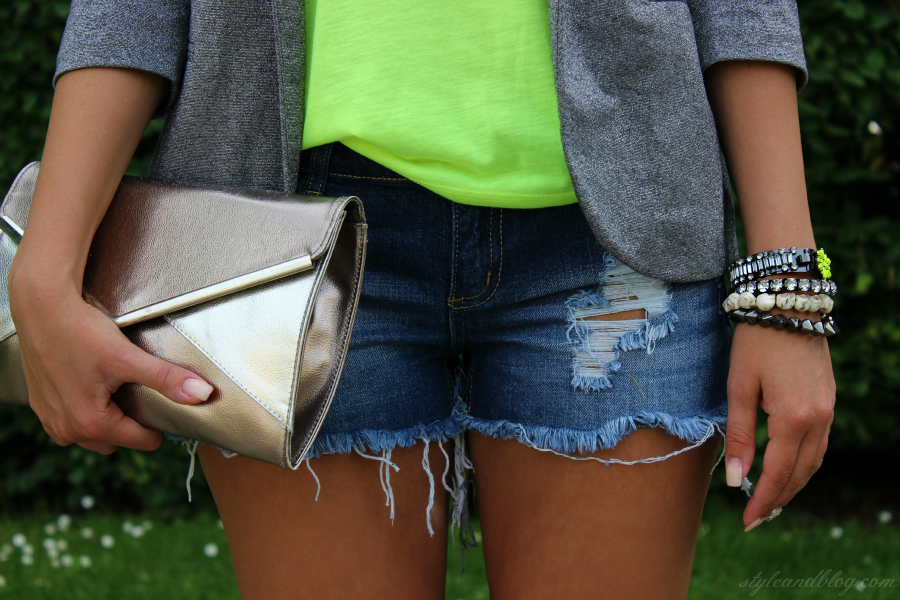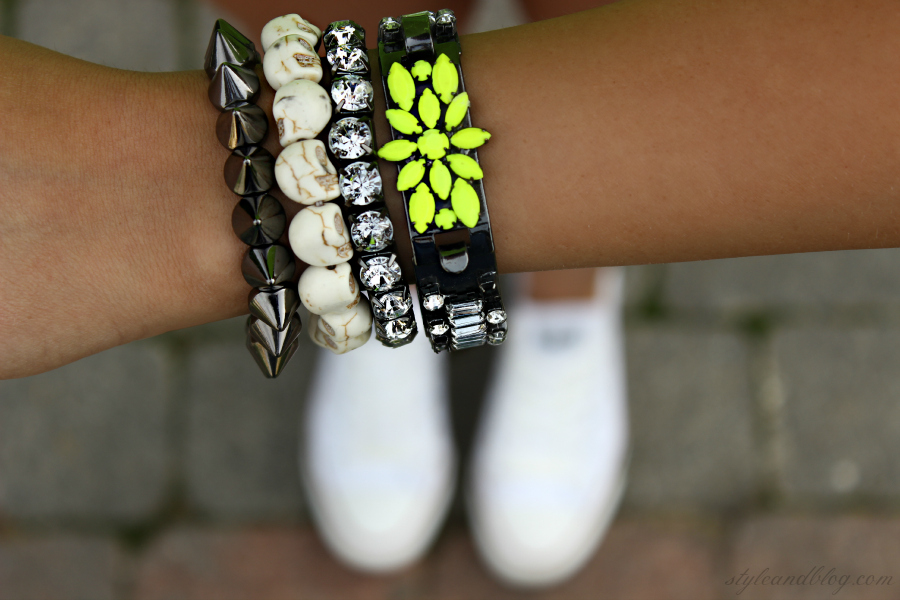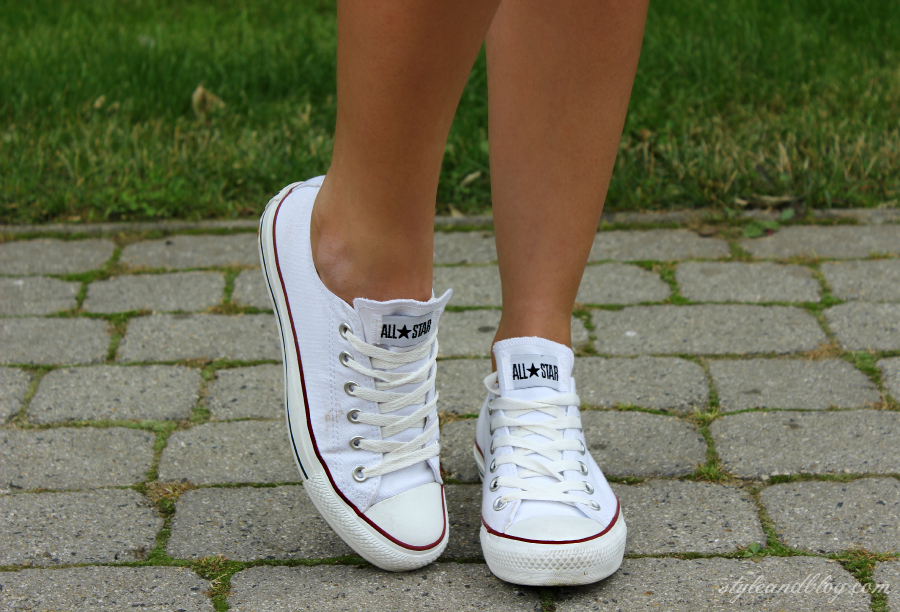 Heart It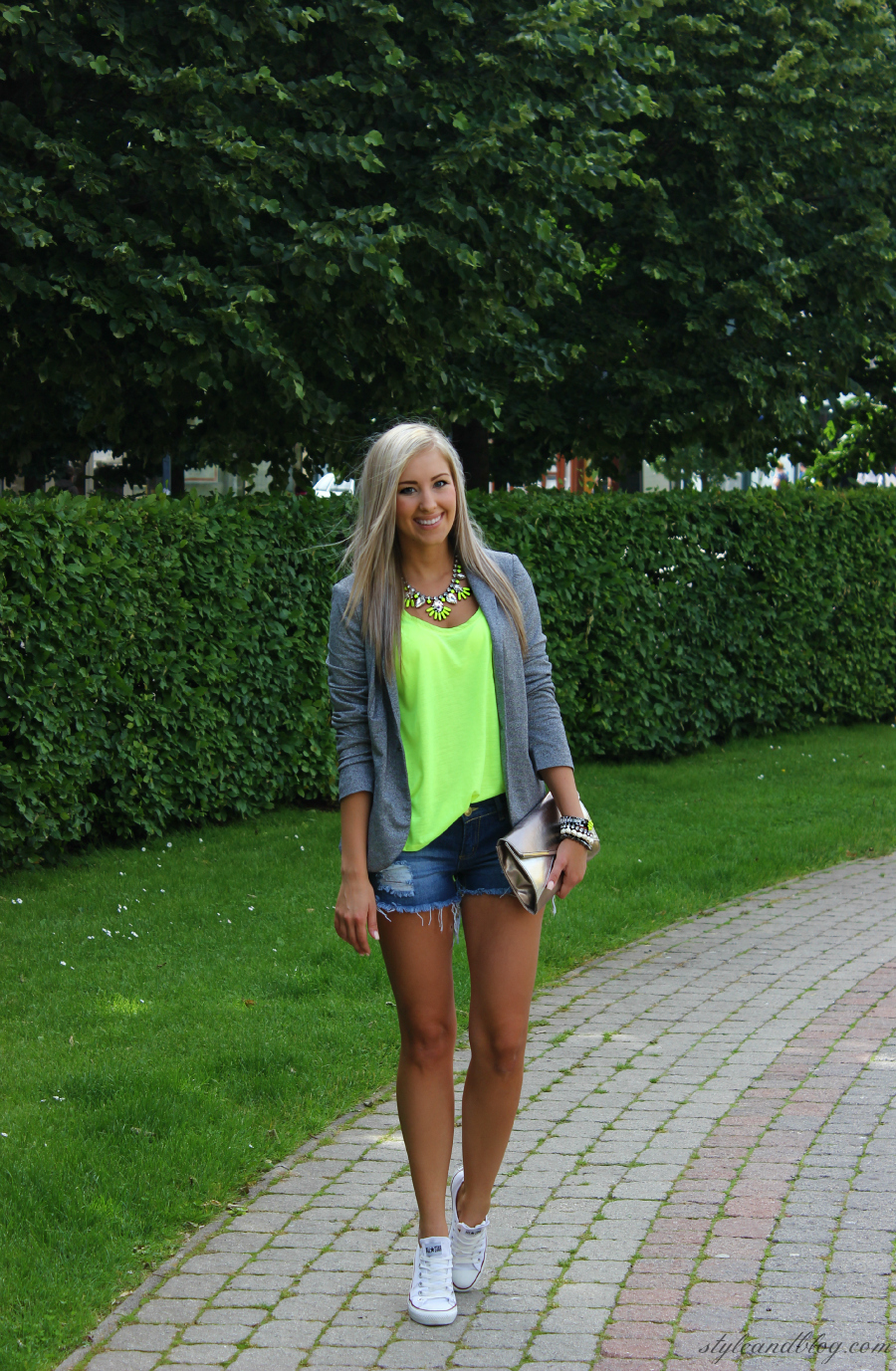 EZÜST BLÉZER / SILVER BLAZER -
STRADIVARIUS
(régi / old)
NEON UJJATLAN FELSŐ / NEON TOP -
H&M
RÖVIDNADRÁG / RIPPED SHORTS -
TALLY WEIJL
STATEMENT NYAKLÁNC / STATEMENT NECKLACE -
STYLE AND BLOG - COMING SOON!
EZÜST TÁSKA / SILVER CLUTCH -
STRADIVARIUS
(régi / old)
NEON KARKÖTŐ / NEON BRACELET -
ZARA
HÁROMRÉSZES
KARKÖTŐSZETT / BRACELET SET -
STYLE AND BLOG - COMING SOON!
TORNACIPŐ / SNEAKERS - CONVERSE

[PHOTOS BY OLAHBERTI]